Sometimes I make something like a veggie stew or pasta sauce and realise that it could become a delicious soup with just a little extra water. That's exactly how this Tomato, Butterbean and Spinach Pesto Soup came about. I had made it as a sauce for baking with gnocchi, similar to this recipe, and I thought it would make a great soup; something a bit different from a normal tomato soup. And I was right. Full of flavour, colour and easy to make from a few ingredients you probably already have in the cupboards.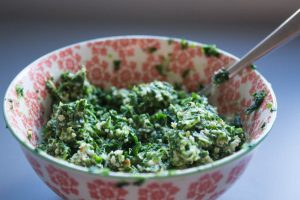 Ingredients
You will need (for four hearty bowls):
2 tbsp pine nuts
4 nuggets frozen chopped spinach (or half a bag of fresh)
1 small garlic clove, crushed
15g Parmesan cheese, grated
Salt and pepper
1 small onion, finely chopped
Olive oil for cooking
700ml tomato passata
1 tin butterbeans, rinsed and drained
200ml vegetable stock
Salt and pepper
Method
Start by making the spinach pesto. Add the pine nuts to a blender, or pestle and mortar, and blend until finely chopped.
Add the frozen spinach to a small frying pan and cook until defrosted and any excess water has evaporated. If you're using fresh you'll need to wilt it down and then chop it.
In a small bowl mix together the pine nuts, spinach, garlic, Parmesan and salt and pepper. Put to one side.
Add a little olive oil to a saucepan and add the onion, fry for 10 minutes until softened.
Pour in the passata and vegetable stock, bring to the boil then reduce the heat and simmer for 15 minutes with the lid partially off.
Stir in the butterbeans and continue to simmer for 10 more minutes.
Serve the soup in bowls and dollop the pesto on top. Serve with some warm, crusty olive studded bread if you like.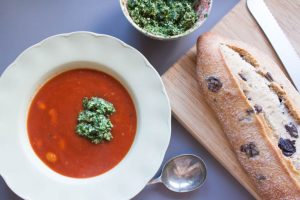 The tomato soup is comforting and familiar with the added butterbeans giving a lovely bit of substance. A good vegetable stock is essential for good soup. I liked scooping up the pesto and soup with crusty bread; getting different proportions of soup to pesto each time. This tomato and butterbean soup freezes well, I stirred the remaining pesto through before freezing it and it's been delicious for warming winter lunches.