Perhaps I should rename my blog 'All That I'm Blending' I've been making so much soup recently. But that's the joy of soup isn't it? You can pretty much throw what you've got hanging around into the pot and miraculously out comes a steaming hot bowl of marvellous soup. My red lentil and tomato soup is no different. Made using what I had in the cupboards and fridge this felt like a meal concocted out of nothing; and I have extra portions in the freezer for a rainy day.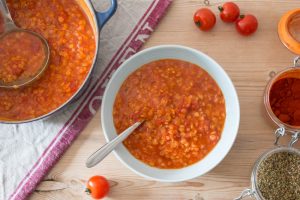 Ingredients
You will need (for four bowlfuls):
1 onion, finely chopped
1 garlic clove, crushed
Oil for frying (I used rapeseed)
1 tsp each of smoked paprika and ground cumin
1 tsp dried oregano
Handful cherry tomatoes, halved
1 tin chopped tomatoes
100g red lentils
250ml water
Salt and pepper
Method
Get a little oil in a saucepan on a medium heat and add the onion. Fry for five minutes until softened.
Add the garlic and spices to the pan and fry for another minute or so. Then add all the remaining ingredients and bring the pan to the boil.
Reduce the heat to a simmer and cook for another 20 minutes, or until the lentils are cooked.
Check the seasoning and adjust as needed.
I served it as it is but it would be great with bread or with any leftover roasted veg stirred through.
I love this soup for two main reasons: firstly, it's ready in half an hour and secondly, it's absolutely packed full of flavour. Red lentil and tomato soup is a classic combination and the addition of smoked paprika and cumin give it a real warmth. The fresh tomatoes bring a little sweetness and the red lentils plenty of bulk and body. It's filling, vibrant and a perfect bright red colour for a cloudy day.