When there's strawberries in the house that's how I know it's summer. I never eat them out of season; I feel like it's worth the wait to abstain from eating strawberries for nine or ten months of the year and then gorge on them from late May until they disappear again. Mostly I just eat them as they are but sometimes I like to make something a little more interesting. This Strawberry, Basil and Shortbread Mess is exactly that. Something that doesn't take long to make but turns a weekday evening into something a little more special. And it does look rather lovely if I do say so myself.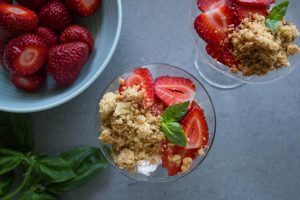 Ingredients
You will need (for two small puddings):
1 shortbread wedge – see recipe below
Handful very ripe strawberries
100ml double cream
Few sprigs fresh basil
For the shortbread:
225g salted butter
100g sugar
275g plain flour
1 tsp vanilla extract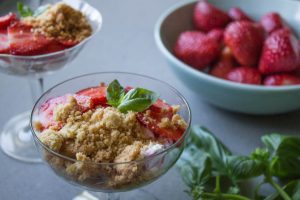 Method
There are two ways of making this. The first, and the best in my opinion, is to make your own shortbread. The second is to use some shop bought shortbread or other biscuits.
To make the shortbread grease a 20cm tin with a little butter. I used a round one for this but I have used a square one for the same recipe, it just needs a slightly shorter cooking time.
Beat the butter until pale and creamy then add the sugar and vanilla and beat again until very pale, smooth and creamy.
Add the flour to the bowl and gently mix it in.
Tip the dough into the tin and then press it down with the back of a spoon. Prick the shortbread all over with a fork and mark into wedges.
Bake in a preheated oven at 160C for an hour or so or until the shortbread is golden brown.
Leave to cool and then re-mark the lines for the wedges before leaving to cool completely and then removing from the tin.
Marking and then re-marking the wedges will make it much easier to cut into pieces when you take it out of the tin.
Whip the cream until you have soft peaks. Finely chop three or four big strawberries and some of the basil leaves and then stir this through the whipped cream.
Divide the cream into two glasses or bowls then add some slices strawberries, crumbled shortbread and a little more basil.
Strawberry and basil is one of my favourite flavour combinations; I love the sweetness of the berries with the aromatic flavour of the soft basil. There's just a small amount of cream in this, it would be a little heavy otherwise. The buttery, crumbly shortbread adds a fantastic texture to this little pudding and it would work really well with other summer fruits too. Trying different biscuits is certainly something I'll be trying too!