Cooking for one somehow seems more complicated than it should be. Even though it's just a case of halving a recipe designed for two if I'm ever cooking for myself I often find myself opting for a slice of toast rather than anything more involved. But toast isn't really that filling for dinner and no matter how much jam you spread on I'm not sure it'll count as one of your five a day. That's where this simple beef and chard ramen comes in. It is easy to scale up or down, you can use almost anything that you have in your kitchen and it doesn't take much time to put together.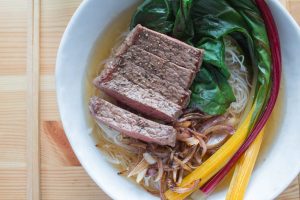 Ingredients
You will need (for one):
250ml vegetable stock
1 tbsp white miso paste
1 1/2 tbsp dark soy sauce
1 noodle nest
3-4 stalks rainbow chard, woody ends removed (if there are any)
1 small sirloin or rump steak
Salt and pepper
Oil for cooking
1 small red onion, sliced
Method
Start by making the broth. Bring the vegetable stock to a boil in a saucepan then stir in the miso paste and soy sauce. Bring to a simmer then pour into the bowl that you will serve the finished dish in.
Return the pan to the heat and fill with water. Bring the pan to the boil.
While you wait for the water to boil season the steak on both sides. Get a frying pan on a high heat and add a little oil, fry the steak on both sides until cooked to your liking. Remove the steak and put to one side.
Return the steak pan to a medium heat then add the onion. Cook, stirring regularly until the onion is brown at the edges.
Put the chard into a steamer that will fit above the saucepan of boiling water. Add the noodles to the water and steam the chard over the top. Leave to cook/steam for 2-3 minutes.
Drain the noodles then add to the broth with the chard and fried onions. Slice up the steak and add this to finish the dish.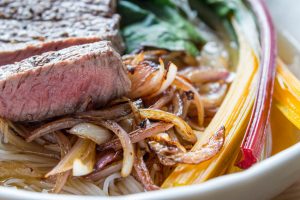 I love how colourful this dish is and it's so full of flavour; a deep saltiness from the broth, comforting carbs from the noodles, richness from the meat, a fresh earthiness from the chard and sweet caramelised flavours from the onion. Cooking the onion in the steak pan really adds to the flavour of the finished dish as the onion picks up any delicious caramelised meat juices from the pan. You could easily use chicken or tofu instead of the beef and swap the chard for kale or pak choi. A sprinkle of fresh chopped chillies or coriander over the top of the dish would add another level of freshness. A bowl of vibrancy and comfort and if you make it just for yourself you can slurp away to your heart's content.