Sometimes you end up with all sorts of bits and pieces in your fridge; half a bit of something there, a few nibbly bits leftover here and I find these little pieces a great source of inspiration. This recipe is a speedy one which makes use of a few ingredients I can find in my fridge more often than not. Lovingly referred to as 'pasta with fridge bits' this particular version was a delicious Spaghetti with Balsamic Tomatoes, Olives and Mozzarella.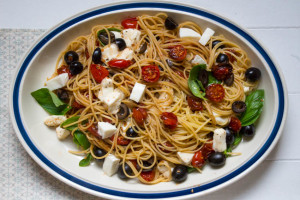 Ingredients
You will need (for two):
10-12 cherry tomatoes, halved
1-2 tbsp balsamic vinegar
1 tbsp olive oil
Salt and pepper
½ tsp dried thyme
175g spaghetti
1 ball mozzarella, torn into smaller pieces
Small handful olives, roughly chopped
Small handful fresh basil, large stalks removed, roughly chopped
1 tbsp extra virgin olive oil
Method
Preheat an oven to 200C. Put the cherry tomatoes into an oven proof dish in a single layer. Drizzle over the vinegar, olive oil, thyme and salt and pepper. Put the tomatoes into the oven for 20 minutes.
While the tomatoes cook bring a large pan of salted water to the boil. Add the spaghetti and cook for 8-10 minutes or until al dente.
Drain the spaghetti and retain a little bit of the pasta water (two tablespoons will do) then stir through the tomatoes (and any juice in the dish), mozzarella, olives and basil.
Serve up and drizzle over the extra virgin olive oil.
I like to serve this on a big dish so everyone can help themselves. It also leads to potential lady-and-the-tramp moments if you share the same plate. Perhaps not one to try on the new neighbours. I love how the cheese melts through the hot spaghetti and sticks everything together; every mouthful is different. The tomatoes are sweet and acidic, the cheese creamy, the olives salty and the basil adds its distinctive herb note. For a meal made out of odds and ends I think it's a mighty fine dish.