I often get left with a collection of fresh herbs. I don't have a freezer so can't freeze them for future use and even if they come in a pot, they always seem to die on me. This recipe is a great one for using up almost any fresh herbs you have hanging around (except maybe mint, keep that for the gin). As if this recipe wasn't useful enough already it also contains super easy meatballs, made from sausages, for minimum fuss and maximum taste.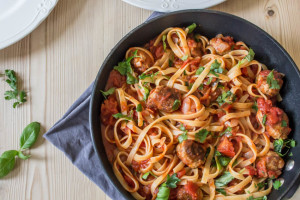 You will need (for four):
4 large herby sausages
350g tagliatelle (you can use any other pasta)
1 medium onion, diced
2 small garlic cloves, crushed
1 can chopped tomatoes
2 medium tomatoes, chopped, most of the seeds removed
1 tsp dried oregano
Small handful fresh basil and parsley, large stalks removed, roughly chopped
Oil for cooking
Salt and pepper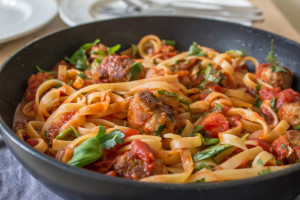 Get a large frying pan onto a low heat and add a little oil. Add the onion and garlic to the pan and cook gently, stirring occasionally until softened, about 10-15 minutes.
Stir the tomatoes (canned and fresh) along with the oregano into the onion and turn up the heat. Simmer for about 15 minutes or until slightly thickened. Season with salt and pepper.
While the sauce is thickening squeeze the sausage meat out of the sausages into a bowl and then roll the sausage meat into meatballs. Whatever size you like; I ended up with 23.
Put a separate frying pan on a medium/high heat and add a little oil. Fry the meatballs until they are nicely browned all over and cooked through. Remove the meatballs and drain on kitchen paper.
Bring a large pan of salted water to the boil and add the tagliatelle. Boil for 8-10 minutes or until al dente. Drain the pasta well then stir the tomato sauce, meatballs and fresh herbs before serving.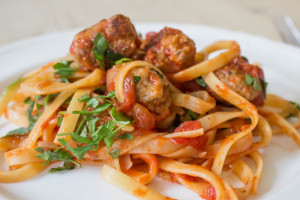 Using sausages for this is a brilliant shortcut and adds a great flavour; try using some spicy sausages for a bit of a chilli kick if you fancy it. The fresh herbs in this really lift it up and make it a little more delicate. The fresh tomatoes add a nice bit of sweetness; you can add a little sugar to canned tomatoes but I don't like to add sugar to a savoury meal. I hope these pasta recipes have given you a bit of inspiration for your meals (there's one more to come). I try to make all my meals the same way as these pasta recipes: simple, full of flavour, quick and inexpensive.