Sometimes the vegetables that arrive in my veg box are so stunning that it (almost) seems a shame to eat them. We all know that a romanesco cauliflower is mathematically wonderful and who can say no to a green lemon when it's yellow inside and full of juice. A bunch of purple spring onions turned up on my doorstep and I knew simplicity would be the way to make the most of them; bold flavours from few ingredients. Chorizo Hash with Purple Spring Onions was certainly the way to go.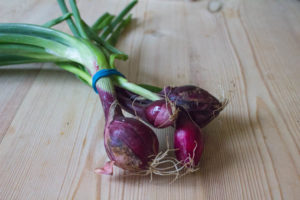 Ingredients
You will need (for two):
One bunch purple spring onions
1 chorizo, sliced (peeled if needed)
500g new potatoes, roughly chopped and sliced as you wish
Salt and pepper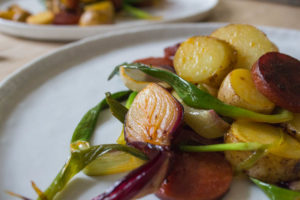 Method
Start by putting the sliced potatoes into a pan of cold, salted water. Bring to the boil and boil for 10-12 minutes or until the potatoes are just cooked.
While the potatoes cook put the sliced chorizo into a large frying pan and cook on a low/medium heat so that the fat from the chorizo melts out and fills the frying pan.
Drain the potatoes when cooked and put to one side.
Halve the spring onions lengthways, removing the dried green ends and any roots, then add to the frying pan with the chorizo. Leave to soften with the chorizo for a few minutes.
Add the potatoes to the pan with some salt and pepper and turn the heat up. Fry for another five minutes or so to allow the potatoes and chorizo to crisp up slightly.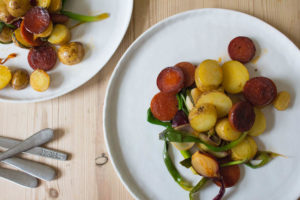 A handful of ingredients prepared and cooked in less than half an hour; what a plate of pure loveliness. Making the most of an ingredient when it's available is really important to me and results in meals like this. The potatoes absorb the beautiful colour and flavour from the chorizo oil, the chorizo shrinks slightly and turns crisp on the edges. The purple spring onions are silky and drape over everything else quite elegantly, retaining a little bite and some of their raw onion piquancy. Super simple, minimal fuss and absolutely delicious.