Apricots make me think of my Mum. She's the biggest apricot fan I know and until last year I didn't really get what all the fuss was about. Then I had a proper one. Not a dry, fuzzy one with an inside like loft insulation but a sweet, juice running down the chin, superbly ripe one. And everything changed. Honeyed Apricots with Rosemary Crème Fraîche might sound like an unusual combination but herbs and fruit work so well together and this is truly a winner. Ripe apricots would be fantastic for this dish, but if they're a bit ropy then sizzling them in honey will only improve them.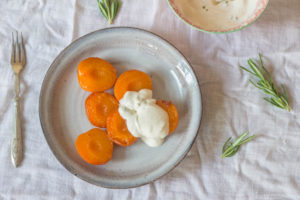 Ingredients
You will need (for two):
6 apricots
1 tbsp honey
4 tbsp crème fraîche
1 sprig fresh rosemary, leaves finely chopped
1/2 tsp vanilla extract
Method
Halve the apricots and remove the stones. This was much easier than I thought it would be, the stones just fell out.
Warm up a small frying pan (a griddle pan would be good if you have one) then add the apricots, flesh side down and let them sizzle gently for a minute or two. Flip the apricots over so they are skin side down and fry for another minute. Finally, flip the apricots once more and add the honey to the pan. Move the apricots round in the honey so they are nicely covered and faintly caramelised.
Mix together the crème fraîche, rosemary and vanilla.
Serve up the apricots and dollop the crème fraîche mixture over the top.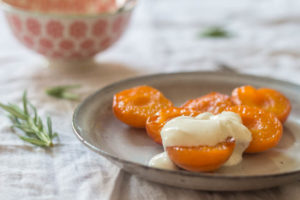 This dessert is so summery it's asking to be eaten outside with a lovely glass of dessert wine. The apricots are unctuously soft; they fall apart as soon as you dig your spoon in. Apricots and honey work so well together to bring some sweetness and coupled with the sharp crème fraîche it cuts through everything beautifully. The rosemary is distinctive but the faint whiff you get from it with the vanilla at the same time is just the best. I love herbs and fruit together and this combination of honey, apricots and rosemary is honestly one of my favourite puddings I have ever made. From slicing the apricots to sitting down to eat this for pudding takes less than 10 minutes and I can't think of anything I'd rather eat under the shade of the tree in my garden.