We've all done it. Looked through various travel magazines and wondered why all these amazing places are so far away, took one look out of the window and decided that our own surroundings are rubbish. Just me? I decided that I want to explore more of what's on my doorstep; to visit more of my own backyard as it were. One way of doing this, and certainly the way I have decided to go about it, is to visit all the UNESCO World Heritage sites in the UK. There are 29 of them in total (at the moment). Three of them are islands in the middle of the ocean and as this is about what's on my home turf I am discounting those. So I've got 26 to visit before the big birthday, which just over two years away and I had already ticked off five before embarking on our North Cornwall Coast road trip.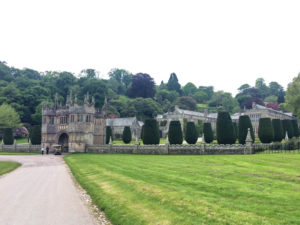 The thing I learnt from this trip is that it's remarkable how much you can cram into three and a half days. If you've not been to Cornwall before and want to make the most of your trip I would say that all the places we visited are a must-see in Cornwall. There are of course other lovely towns and stops along the way (St Ives, Padstow, Wadebridge I'm looking at you) and other places of note (The Lost Gardens of Heligan, Land's End, Bedruthan Steps all spring to mind) and all sorts of caves, coves, beaches, gardens, monuments, museums and the list goes on. We were there to visit the North Cornwall coast and tin mines, of recent Poldark fame, and we were going to get there with all sorts of stops and adventures as we went.
Thursday night
We drove down in absolutely awful weather and were so pleased to finally reach our B&B, Eden's Rest, in a little town called Bugle. It's in a fantastic location for exploring this end of Cornwall and the accommodation was great. A big comfy bed, our own lounge, a parking space waiting for us and a good night's sleep were just what we needed.
Friday morning. There was a huge range of fruit, cereals and yoghurt for breakfast and the hash browns that came with the full English deserve a special mention. First stop: The Eden Project. We weren't actually heading there to go inside the domes but rather to fly over the top of them. Hangloose are the company who have set up all sorts of wires and swings to dangle you from at your leisure and the zipwire over the top of the Eden Project is actually the longest in the country. We had booked our tickets in advance for this so we sauntered up to get our special flying gear on, I was hoping for a cape but sadly, there were no capes. They must have seen The Incredibles. Then, after a safety briefing we were rather high up above the tree tops and ready to launch. It was a great view on the way down and all over rather quickly but I would recommend it to anyone.
Friday lunchtime
After our most exhilarating morning we thought more activities were needed so we headed over to Lanhydrock and hired bikes to cycle the mountain biking trails. We pretty much had the trails to ourselves, thank goodness, as I learnt that mountain biking is not my forte. There were a few instances of slipping, dropping the bike, swearing and kicking the pedals into my own feet and legs before I thought it was time to get some lunch. Which was a pasty from the café of course. We then went for a trip around Lanhydrock house; a glimpse back in time and all left just as it was from the Victorian era. The house was brilliantly organised so you didn't miss a thing and the kitchens were amazing; to see how things had to be cooled, cooked and stored back then.
Friday afternoon
St Michael's Mount was (sort of) on the way to where we were staying on the Friday night so we stopped off to see it on the way. It's somewhere I've wanted to go for a while. We were too late to see the castle but we got an ice cream so it wasn't all bad. It is odd to walk down the path to the island knowing that in only a few hours it will all be underwater again. I know technically this is on the south coast of Cornwall but I'm sure you'll forgive me as it looks like that.
Friday night
We were staying at Cape Cornwall Golf & Leisure which was about as west as I could find in Cornwall and was to be our base for exploring Botallack and the mining coast. The rooms here must have all been very recently refurbished as everything was really new and even smelled of fresh paint. It's just outside a town called St Just which is a great base to pick up some provisions for your coastal walk. The view from the restaurant will take some beating, all sea and sky, and the food was great (tomato and mozzarella to start then fish and chips, of course), all washed down with some Cornish beers.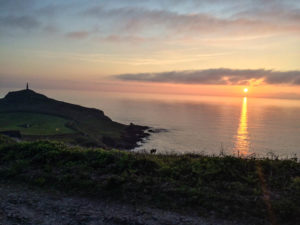 After dinner we took a walk around the coast path, which is so hidden you'd have to be walking to see it, and watched the sunset from a very conveniently placed stone bench. We were the only people there. I've seen a few sunsets before, I'm no expert by any means, but this one was undoubtedly the best ever.
Saturday morning
Fuelled again with a full English breakfast we departed early and parked up at Botallack. The scene above is just one of many views and whichever way you're looking it's amazing. This has got to be one of the most stunning places I have ever been. And it's littered with history. Everywhere you look; on the coast, amongst the farmland and even under the sea there are the remains of the Cornish mines. And thanks to the National Trust they are all available to wander round and have a look at, mostly for free. Sadly Levant and Geevor mines were both closed but you can walk the South West Coast Path very neatly between all three of them.
We drove around the coast from Botallack to get to our destination for lunch.
Saturday lunchtime
I had done a bit of research into Cornish farm shops; I love to look round the farm shops whenever I go somewhere to see all the fabulous local produce and grab a bite to eat. Trevaskis Farm was very conveniently located between Botallack and Perranporth (which was our next stop). The farm shop was great; Cornish biscuits, jam, clotted cream (of course), tea and generally all of the lovely things but we were there for some lunch. I don't think I've ever been anywhere that's both so manic and yet so well organised at the same time; the manager in charge was as cool as a cucumber and found everyone tables, even though it looked like there weren't any. I had a Cornish ploughman's (huntsman's (with ham) and fisherman's (with fish)) were also available and it was just what I needed. Loads of pickled onions and generous wedges of cheese. I was surprised they used a very well known pickle brand on the plate rather than some from a local producer but it was still great. The OH enjoyed a gargantuan portion of lasagne which was homemade and really good.
You may have seen the many, many desserts in the picture above and the dessert cabinet at Trevaskis deserves a special mention. I tried to count how many there were and my best guess is 45. Yes, 45 puddings to choose from; cakes, jellies, cheesecakes, crumbles, pavlovas, fruit salads, tarts, tortes, pies, pastries. Oh my. I just didn't know where to look, or what to choose but I ended up with an Oreo tart where the base was made from Oreo's and then filled with dark chocolate ganache. The OH ended up with banoffee pie. Both portions were absolutely massive, and very tasty. And, it turns out, when they ask if you would like cream, custard or ice cream you can just answer 'yes'. I was asking for a friend, promise.
Saturday evening
Next stop was our accommodation for the next two nights: The Whitehouse Inn near Penhallow. The staff were really helpful in letting us know the best ways to get around and the room we had was basic, but really big. This would be a great place to stay if you had children; they had their own go kart track. We actually knew this particular bit of Cornwall much better than we thought we did and realised that Healey's Cider Farm and Callestick Ice Cream were just under an hour's walk away along beautiful countryside lanes.
We wandered over to Healey's for a pint of Rattler, it would be rude not to, and watched a man who had had one too many ciders (and not enough lunch) taking a nap in the sun. We grabbed an ice cream from Callestick for the road home, it was clear why the Pistachio had won a Great Taste Award! We had a quick dinner at the hotel that evening ready for the next day.
Sunday
The other reason for this trip to Cornwall was to go to Tunes in the Dunes festival in Perranporth. We had a big breakfast on Sunday morning then walked, all downhill, from Penhallow to Perranporth. There was a thick fog in the morning so we wandered round the town and the beach (the little rowing lake was closed unfortunately) before grabbing a quick bit of lunch and heading to the festival.
So it's a Sunday, you're sat down with your toes in the sand and the sun on your face knowing you don't have to do anything other than this, and an occasional visit to the loo/bar, for the rest of the day. Tunes in the Dunes had a brilliantly relaxed atmosphere and I think really benefits from being so close to a town so you can nip in and out at will. Music playing, sun setting, it doesn't get much better.
We did find a fantastic vegetarian food van parked up in Perranporth called Good2Go. They have the cutest little courtyard out the back behind the van and their falafel wrap, with a little bit of hot chilli sauce was delicious. It'll be a heck of a journey when I'm craving one in the future.
The festival finished around 11 and we walked all the way back to the hotel. I hadn't noticed quite how steep the hill was on the way down but all the ciders I had enjoyed at the festival made it seem much less like hard work.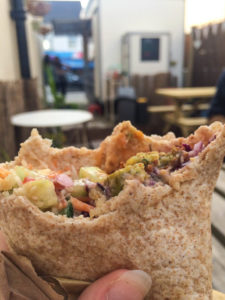 We took our time on Monday morning before leaving and were back home Monday afternoon already wondering where our next pasty was coming from. Things I have taken away from this trip are: Cornwall is stunning (I did already know that but these were new places I hadn't seen before), the hedgerows are completely different in Cornwall to Berkshire and I have a new found love for The National Trust. Whenever I leave Cornwall I always find myself trying to work out when I can fit another trip in; I don't think I'll be lucky enough this year but I think another road trip will be in order next year. In terms of ticking off more UNESCO sites, next stop is either Kew Gardens or Ironbridge. We will have to see.