This was a gifted stay and meal.
When I hear a town name that ends in 'on-Sea' I can't help but think it'll be a place full of fish a chip shops, candyfloss and rock, stripy deck chairs and 99s with a flake. It conjures up images of 1950's his and hers matching striped bathing suits, an afternoon watching Punch and Judy and a cream tea or two. If you can't tell already I'm a big fan of a British seaside town, there's something about them you don't find anywhere else, so I was really looking forward to my weekend in Southend.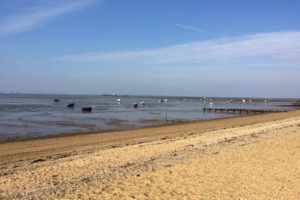 Southend-on-Sea is in Essex on the Thames estuary, most famous for its pier which is the longest pleasure pier in the world (yes, not just the UK but the world!) at 1.34 miles long and also home to the café from Jamie and Jimmy's Friday Night Feast. As I was about to find out there's a lot more going on in Southend and the surrounding towns than just the beach.
Firstly we needed to drop our things at the hotel. We were staying at The Roslin Beach Hotel which is just outside Southend, in fact a pleasant 15 minute walk along the seafront, and has a lovely subtle beachy theme throughout the hotel. Our room (you can see above/below) had a great view out over the estuary and the bed was amazingly comfortable. I thought we might get woken early in the morning by squawking seagulls or some noise from the road at the front but we didn't hear a thing. I shall come onto the breakfast and dinner at The Roslin later on, but first I shall let you know what else we got up to while we were there.
After dropping our bags at the hotel we were straight out of the door and walking towards Westcliff-on-Sea. It's around a 45 minute walk along the seafront and the weather was not on our side but we persevered, we're used to rain at the seaside. On the left as you walk down you have the sea and you can see the pier in front of you. As you get closer to the town the right hand side of you changes from houses into shops and then into gardens which are all open to amble about in. We were going for lunch at Coastal Bites which is one of several shops and cafés part of The Arches. I can only imagine how busy it gets here when the sun comes out. More on our lunch in an upcoming post.
The rain was easing off after we had finished lunch so we wandered back to the hotel to pick the car up (don't ask why we didn't drive to lunch from the hotel, I don't know why either) and we headed over to see Hadleigh Castle. It overlooks the Essex marshes and is run by English Heritage; it's free to park and have a look round the castle. They have really handy little plaques (which I haven't seen used before) to show you where certain rooms would have been when the castle was still in one piece. It would be a great place for a picnic.
We headed back to Southend after this to take a look at the town itself. It's a curious mixture of very new buildings and structures (the modern viewing platform at the start of the pier) and fantastic old buildings that make up the high street. On a rainy day there's not much better than popping into a museum so off we went to Southend Central museum, we were pretty close to closing time but they were happy to let us in for a look around. As museums go it's quite small but they have crammed in as much as possible; an individual air raid shelter, bits and bobs from the Iron Age, Stone Age and more and plenty of natural history. At the moment, and I believe until the end of the year, there is an exhibition focussing on Biba with some great stuff they have dug up from the past; make up, marmalade jars, homewares and all sorts. If you went to this exhibition in London they would certainly charge you to get in. In Southend, it's free. They also have a Planetarium which I was most excited about when I found out, unfortunately it's only open on Saturdays and I went on a Friday. Next time.
After all this excitement we were looking forward to dining at The Pipe of Port; famous for its wines and its pies this has got to go down as one of the best places I have ever eaten. I shall say no more for now, I'll be posting about it soon.
The next day, after a hearty breakfast (more on that later) we went to Leigh-on-Sea. I'm loving all the 'on-Seas'. What a brilliant town. You've got Old Leigh at the bottom of town; sheds and shacks selling all manner of crustaceans and molluscs and pubs and a cafe with great big gardens outside. In Leigh itself it was a hive of activity and there were so many local independent shops it was hard to know where to start. If you're a person who loves to spend their time shopping and you haven't been to Leigh you need to go. We were lunching at Stop The World Café and I shall be posting about that soon, I feel I should say at this point that they make a somewhat impressive battenberg.
That evening we were dining at The Roslin and enjoyed a drink at the bar before heading to the restaurant for dinner. There are several rooms where they serve food and all of them have a wall of windows overlooking the sea; we were sat a little far back from the windows to take in the view at dinner but no matter, we made up for it at breakfast. They have a good selection of wines to choose from; not too few to be too standard and not so many that it's overwhelming. We shared a bottle of NZ Pinot Noir (£32) and it complemented the meal well.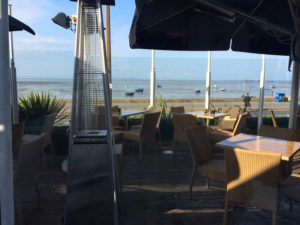 There was a huge choice of food on the menu and I was so torn with what to have, there were some really interesting vegetarian options too (no mushroom risotto here!). I thought I'd best have fish for my main; it would be rude not to as we were by the sea and the OH had the same issue not knowing if he fancied the spatchcock chicken, the chorizo and fennel rigatoni or a steak. Steak won in the end.
I started with grilled peaches, bresola and goat's cheese dressing (£9) which was a really light way to start the meal. The peaches were served cold which I wasn't expecting but it certainly wasn't a bad thing. The OH had the game terrine, pickled mushrooms, celeriac remoulade and brioche (£8) and it was a really generous portion, delicious too.
For our mains the OH had the sirloin steak which came with watercress, tomato, mushroom and choice of potato (£24). So he chose dauphinoise (why wouldn't you!). I had the sea bass fillet with leek fondue, parmentier potatoes and saffron velouté (£22). The steak was great and the béarnaise sauce was really fresh. The dauphinoise was a huge stack of creamy, garlicky potato and it was everything you'd want for a steak dish, although the steak could possibly have done with slightly longer resting. My meal was so well balanced; the earthy fish, sweet leeks and fragrant saffron worked so well together and it was very pretty to look at too. The fish was perfectly cooked; all flaking apart with really crisp skin.
Desserts were both £7. I had peach tarte tatin with honey and thyme ice cream and the OH had hazelnut torte with Bailey's ice cream, milk chocolate and hazelnut brittle. Both desserts were really good. The peaches with thyme, you know how I love a fruit and herb combo, worked wonderfully and the chocolate torte was rich with the brittle adding a lovely texture.
And then we retired to our very comfortable (and massive) bed for a good night's sleep, a very powerful shower with luxurious Elemis toiletries in the morning and got ready for our journey home. But first there was breakfast.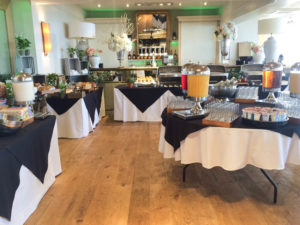 What a spread they put on for breakfast: cured meats, pastries, mini loaves of bread, real-size bread, croissants, yoghurts, more fruit than you can shake a stick at (all of it prepared), juices and hot food. It was all really good quality and you could also order porridge or kippers that weren't part of the buffet and eggs in all different forms. The last morning we were there was a beautiful sunny day so we sat by the window and enjoyed our brekkie and the view. I know I'm having a good day when my breakfast starts with hash browns.
We fit a lot in to two days, I would have loved to have had a bit longer to enjoy a spa treatment at the hotel and I would have really liked to walk the Southend pier too (there's a little train you can get back if you like which sounds so cute). We shall have to save all those things for our next visit! I'll be posting more about the trip and where we ate in some upcoming posts.
Thank you to The Roslin for the accommodation, breakfast and dinner. All opinions expressed and words are my own.