Wholesome food always makes you feel good; it's made from humble ingredients and is full of good things like beans, vegetables and whole grains. I normally eat slow cooked, what I would describe as wholesome, meals in the autumn and winter but this easy white bean stew with purple sprouting broccoli is the perfect dish for this time of year. It's quick and easy to make, is full of seasonal vegetables and is absolutely delicious. Using seasonal veg not only makes the best of what's around but means it's super cheap to cook up too, feeding four people for around £4.50 (most of what I used was organic too!).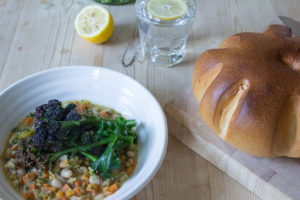 Ingredients
You will need (for two hearty bowls):
1 large leek, sliced £0.40
2 cloves garlic, finely sliced £0.10
Olive oil for cooking £0.10
2 carrots, diced £0.10
2 bay leaves £0.05
2 cans cannellini beans, drained £1.30
500ml vegetable stock £0.30
Handful fresh parsley, roughly chopped £0.20
Purple sprouting broccoli, woody ends removed (4-5 stems each) £1.75
1 lemon £0.30
Salt and pepper £0.05
Total price £4.65
Method
Get a casserole pan on a medium heat and add a little oil. Stir the garlic in and stir briefly before adding the carrots, leek and bay leaves. Add a dash of water (2-3 tbsp is all) then leave everything to soften for around 10 minutes.
Add the beans and stock and then simmer everything for 10-15 minutes with a lid half on.
Fill a pan with a steamer with a little water then get it on to boil.
Check the stew, it should be like a thick soup, you can add a little water if you need to thin it out then season with salt and pepper. Remove from the heat and keep warm. Stir through the parsley.
When the water is boiling steam the broccoli for 2 minutes then remove and squeeze over the juice from the lemon and a good grinding of black pepper.
Serve with nice crusty bread.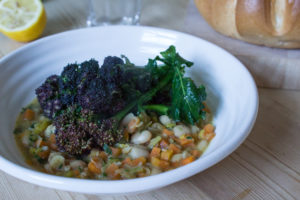 This is one of my favourite dishes and one that I can see myself returning to again and again. It's also vegan, which I realised afterwards so if you're looking to expand your vegan cooking repertoire then I can recommend this as an excellent place to start! It's lovely to have the seasonal purple sprouting broccoli as the star of the dish and the acidity the lemon brings cuts through the comfort of the bean stew. I also normally have some sort of white bean in my cupboards and I think it would work with any of them. If you make double the amount it's also very tasty served as a soup the next day. I would advise serving this with crusty bread so you have something to mop up the juices from the stew.