It was one of those evenings. You know the ones, where you look in the fridge expecting a sudden moment of inspiration and the fridge just stares blankly back. I'd put something down on the meal plan but for one reason or another didn't manage to cook it; sometimes I forget to buy an ingredient or I use it all in another meal forgetting to save any for later in the week. My potato, chargrilled broccoli and pesto salad came out of seemingly nowhere. This meal's saviour turned out to be a little pot of pesto; it transformed a sorry looking collection of vegetables into a rather tasty meal.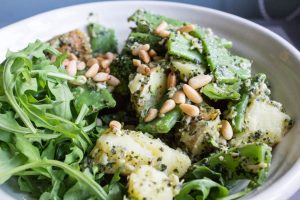 ingredients
You will need (for two):
2 large handfuls new potatoes
1 small head broccoli
Small handful green beans, sliced diagonally
3-4 tbsp pesto (fresh from a deli or homemade if you like). You could use a vegan pesto to make the meal vegan
Small handful pine nuts
2 handfuls washed rocket
method
Start by scrubbing the potatoes and then chopping them into halves or quarters depending on their size and how you like them. Leaving them a little larger just means they will take a little longer to cook. Put the potatoes into a pan of cold salted water and bring the pan to a boil, then reduce to a simmer. Simmer until cooked through.
Chop the broccoli into small florets and pop them in a steamer over the potatoes for 1-2 minutes until bright green but still crunchy.
Get a griddle pan onto a medium/high heat and tip the broccoli in. Keep the broccoli moving occasionally but allow it to get chargrilled at the same time.
Re-use the same steamer and pop the green beans above the potatoes for the last few minutes of the potato cooking time.
Drain the potatoes and green beans and put to one side.
Put a small frying pan onto a medium heat and add the pine nuts, moving them round the pan often until they are toasted.
Mix the broccoli and pesto into the potatoes and beans and then serve up with the rocket and top with the pine nuts.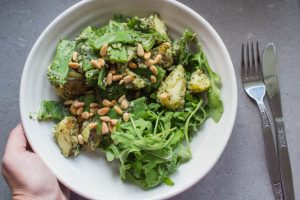 The chargrilled broccoli adds such a great flavour to this salad, if I was having a barbecue I'd definitely try the broccoli on there before mixing into the salad. This is a really hearty and filling dish and would be a great side but I enjoyed it just on its own. A few halved cherry tomatoes, some leftover chicken or salmon would be delicious additions and would probably leave you enough for lunch leftovers the next day.