Jerk seasoning has to be one of my favourites. No matter what time of year it is there's always room for something to be cooked up with it; sticky jerk chicken in the autumn, a fiery casserole in the winter or when the new season arrives, jerk carrots. This recipe came out of a need to use up a whole load of carrots and I certainly didn't want to make soup. I can see it working really well on the BBQ as a spicy veggie side in the coming weeks too. If you can get hold of new season spring carrots they are sweeter and smaller than carrots available later in the year and are ideal for this recipe.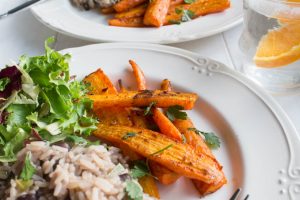 Ingredients
You will need (for two):
6 small to medium carrots, peeled and halved lengthways
1 tbsp rapeseed oil
1 tbsp jerk seasoning
Salt and pepper
125g easy cook rice, washed
Pinch allspice
4 spring onions, sliced
200g tinned black beans
300ml hot vegetable stock
1 tbsp desiccated coconut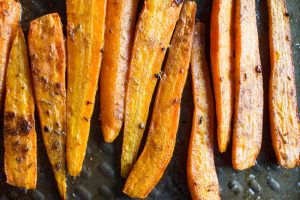 Method
Start by mixing the carrots, rapeseed oil, jerk seasoning and a little salt and pepper together until the carrots are nicely coated.
Put the carrots onto a baking tray and roast at 190C for 25-30 minutes or until starting to turn golden brown.
While the carrots are cooking wash the salad and leave to drain.
Get a medium lidded saucepan onto a medium heat and add a little rapeseed oil. Add the spring onions, allspice and coconut and fry together for five minutes or so. Tip in the rice and fry for another minute.
Pour in the hot vegetable stock and the black beans then bring to the boil. Reduce to a simmer and leave to cook for 10-15 minutes, depending on how long the rice takes. Stir from time to time. All the stock should be absorbed by the rice.
Serve the carrots, rice and beans up with a handful of salad and then squeeze a little lime juice over everything.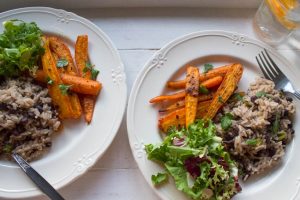 The rice and beans are so comforting and the flavour of the allspice and coconut running through is delicious. The jerk carrots are fantastically spicy and sweet as the roasting intensifies all the flavours. Adding a squeeze of lime over everything at the end freshens everything up nicely. There are plenty of other veg that this recipe would work so well for; aubergines I have tried in the past and I think butternut squash would be great too.