I know it's technically May but the end of April crept up on me somewhat and before I knew it I'd run out of time to post this in April. It's been a busy month again this month and new in the kitchen were some gluten free products, soft drinks and Belgian waffles. This month has been a bit less about me experimenting with new products but rather enjoying some that are ready to go.
First up I tried a couple of gluten free products from B Free. I made some bean and veggie wraps with their fajita kit. The kit contained wraps, spice mix and salsa and had a really good smoky flavour, I honestly wouldn't have known the wraps were any different to standard ones. I also tried some of their other seeded wraps and pitta bread. The pitta bread warmed and dunked in hummus was good, if ever so slightly sweeter than other pitta breads and the seeded wraps made a nice change for my lunch filled with chicken and salad. A friend of mine has recently been diagnosed as a coeliac so I gave her a couple of the wraps to try for herself, after a couple of disappointing products she had tried from other brands, and she really liked them.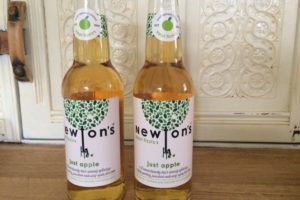 I really like the packaging of these Newton's Apple Fizzics drinks. I have to say that these turned up, went straight in the fridge and were drunk only a few hours later as they looked so good! I think they are on to something with these; a soft drink that's not aimed at children, which isn't full of sweeteners and doesn't have loads of sugar. It's just apple juice and sparkling water which is really refreshing and something different. It's a simple idea but I don't think there are enough products around like this; it's surprisingly hard to find an adult soft drink that's not just juice or full of sugar.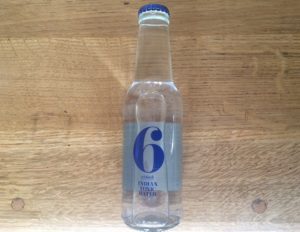 As a big fan of 6 o'clock gin I was really looking forward to trying their 6 o'clock tonic. I love a little glass bottle that you can mix up your own G&T from, it's a bit more special somehow. This tonic is really clean in flavour and free from artificial sweeteners and preservatives. I added a little slice of cucumber and a sprig of mint to my gin with this tonic and it was a delight.
I was really looking forward to trying these waffles from The Belgian Boys; the one on the left is their Stroopwafel and on the right the Choco Stroopwafel. Crispy waffles filled with caramel, one coated in chocolate, a perfect treat for elevenses. The idea with these is that you make a hot cup of coffee then put the waffle on the top allowing the waffle to soften and the caramel to melt. They were really good and the faint spiced flavour in the waffle added to the whole thing. Such a nice treat to have with your mid-morning cuppa!
Thank you to B Free, Newton's, Bramley & Gage and The Belgian Boys for the samples. All opinions expressed and words are my own.