I do like a jelly; easy to make, it doesn't need many ingredients, it looks lovely and it makes for great entertainment when trying to serve it into smaller bowls. You might have seen I made some elderflower cordial recently and other than trying it with sparkling water in the evenings this elderflower and blueberry jelly was what I rustled up to take to a Sunday evening BBQ with my parents. A fantastic dessert to make in advance and forget about in the fridge.
Ingredients
You will need (t
o make enough for four generous servings):
150g blueberries

1 pint water and elderflower cordial, mix it slightly stronger than you would to drink

1 sachet powdered gelatine

8 tbsp boiling water (or whatever your gelatine says!)
Method
Put the blueberries into the bowl you will serve the jelly in.
Add the hot water to a large measuring jug and sprinkle the gelatine on top. Stir to make sure the gelatine is well mixed in and fully dissolved. I ended up adding a little more water to help the gelatine along.
Pour in the elderflower cordial mix and stir together well.
Add the elderflower mix to the blueberries and refrigerate until set.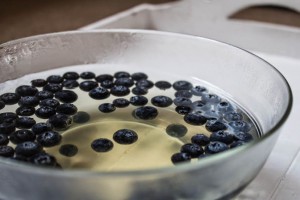 I'm not sure why some of the blueberries sank but the majority floated; it didn't matter at all, if anything it added a slight curiosity to the dessert. A large serving spoon is your friend when serving this up lest it wobble its way off a smaller spoon onto the table or floor. I made it in a bowl as I thought it looked pretty but you could divide it between glasses or jars as I did for my blackberry and perry jelly previously. I love the delicate colour of the elderflower jelly broken up with the little blueberries. The flavours worked really nicely together too; a light bowl of summer perfect for the warm evenings.