If you've been reading my blog over the years you'll know I love anything elderflower. This year I was invited to go foraging in the grounds at Audley Inglewood, home to restaurant The Walmesley, and to knock up a batch of homemade elderflower cordial with their head chef Gert Pienaar. It was great to go out to the fields, pick the elderflowers and have a good old chat about food at the same time. I've not made elderflower cordial before; syrup and sugar yes but this was my first cordial attempt.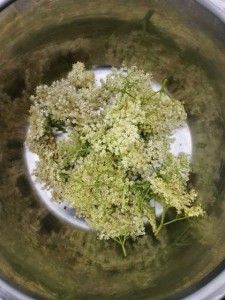 Ingredients
The recipe we used was written down in Gert's secret black book but it was very similar to this one on the BBC Good Food site. Apart from the added ingredients below.
You will need (for around 1.5 litres of finished cordial):
20 elderflower heads

Sugar – all the recipes I've seen vary so much in sugar quantity so it's how sweet you like it

1.5 litres boiling water

2 lemons, zest and juice

50g citric acid

1 stalk lemongrass
Method
Tap the elderflower heads on the side of a bowl to get rid of any insects then put them into a bowl with the sugar, lemon zest and juice and citric acid.
Pour over the boiling water and whisk everything together well.
Add everything to a sterilised jar, whack the lemongrass with a knife and add this to the jar too.
Put the lid onto the jar and leave to steep overnight.
The next day strain the cordial through a muslin into a sterilised container and enjoy. You should end up with around two litres.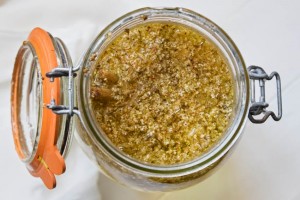 I even got to wear a chefs' jacket and apron while making this in the kitchen. Being a professional kitchen meant there were endless supplies of bowls, scales, whisks and all sorts available so it was really quick and easy to make. There was even an oven set up to 'steam' so sterilising the jars was fuss free. If I'd made it at home it would have made much more mess!
The smell at every stage is just fantastic; fresh elderflowers, lemon zest and juice, the steam that comes off when it's hot is full of flavour. I have a healthy amount of cordial to use in every varying ways so keep your eyes peeled for recipe and drink ideas coming up! There are all sorts of flowers you can use to make different syrups and drinks, including dandelion tea!
If you've not been foraging before, check out my quick guide here.
Thank you to Gert and Inglewood for letting me come and pilfer your hedgerows and for making the cordial with me!