It's a funny time of year now, the days and dates get all a bit confused and everyone is in a state of simultaneous post Christmas relaxation and start of year enthusiasm. I use it as a time to reflect on the last year (of cooking and life in general) and also as a way to think about what I might like to do and try for the upcoming year. Below is a list of my ten favourite recipes from the last 12 months; although of course they are all my favourite these are my extra special favourite ones.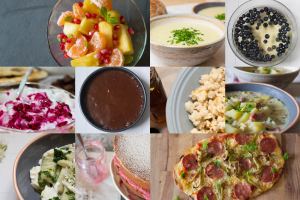 Working from left to right from the top (as you would read a book) the posts are as follows:
Green Clementine Fruit Salad with Mint and Vanilla Syrup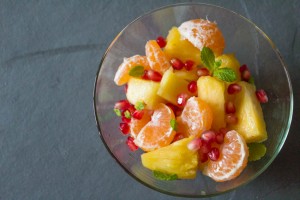 This is a really lovely way to use some of the more unusual green clementines that you can find and I was amazed at how just a little bit of syrup can make such a huge flavour transformation. Recipe here.
Luxury Leek and Potato Soup with Homemade Soda Bread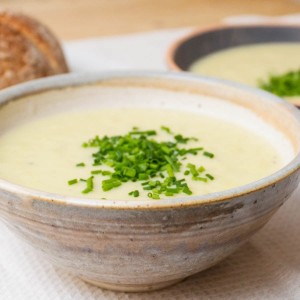 Leek and Potato Soup is such a classic and I'm yet to meet anyone who doesn't like it. My luxury version is made with chives and double cream but makes enough soup and soda bread to feed for people for less than £4. Recipe here.
Elderflower and Blueberry Jelly
Elderflower reminds me so much of late spring and last year I made my first batch of elderflower cordial which I used in various ways but I think my favourite way was in this delicate elderflower and blueberry jelly. Recipe here.
Beetroot Tzatziki, Beef Koftas and Quick Flatbreads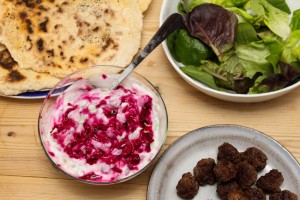 I love beetroot and am always looking for new ways to use it; beetroot tzatziki was a revelation! So good with quick homemade flatbreads and spiced beef koftas this became a summer staple. Recipe here.
Malted Chocolate Biscuits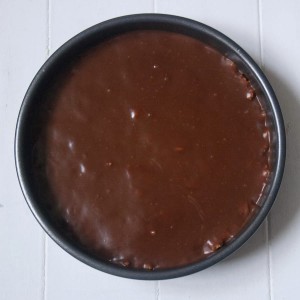 Malted anything is always welcomed by me and these malted chocolate biscuits remind me so much of when I was younger as it was one of the first recipes I made from my very first cook book. Recipe here.
Maple Salted Popcorn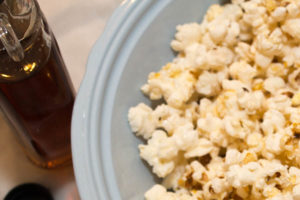 Making popcorn at home is so easy (and so cheap!) and it's great to have a lovely big warm bowl ready to watch a film. I experimented with a few flavours last year but maple salted popcorn was definitely a winner. Recipe here.
Sweetcorn Chowder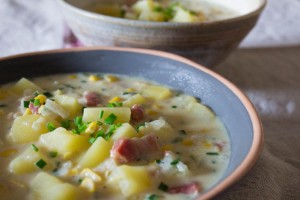 I love sweetcorn fresh from the cob and chunky soups are also one of my favourite things. This smoky, chunky soup of sweetcorn, potato and bacon in a full flavoured creamy soup is one of my favourite things ever. And for two big bowls it costs less than £3. Recipe here.
Wild Garlic Gnocchi with Mozzarella and Wild Garlic Oil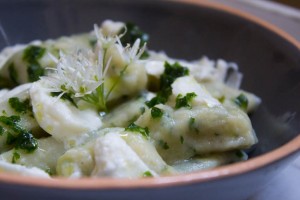 If you don't already know I do like to go out and find wild food and wild garlic is one of the best to start with as it's so distinctive. Picked wild and then turned into gnocchi (easier than I thought!) it's a great way to use the leaves and flowers. Recipe here.
Victoria Sponge with Rhubarb and Vanilla Compote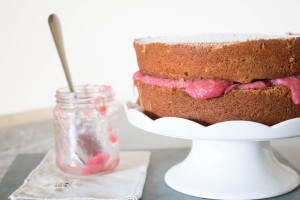 When the rhubarb arrives in the veg box it means spring is just around the corner and making this lovely pink rhubarb and vanilla compote is a brilliant way to celebrate its arrival. Even better in a cake. Recipe here.
Caramelised Fennel and Salami Pizza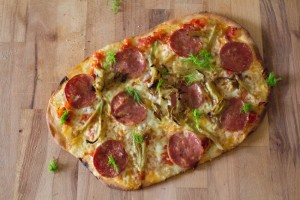 I worked on perfecting my pizza base and sauce recipe and it all came together superbly in my caramelised fennel and salami pizza. Whenever I get fennel it's more than likely it will end up as this! Recipe here.
For 2015 I want to practice baking a bit more and also look at creating some slightly healthier bakes, not all the time though I am a fan of a bit of indulgence. I also want to see if I can veggie up some of the meat dishes I cook regularly for a bit of variety. We shall see what this year brings! Happy 2015 to you!