Scandinavian food interests me; cured salmon, pickles and dark rye are the things that immediately spring to mind. By coincidence I was sent two different crispbreads to try; some from Finn Crisp and some from Plain Tasty so it seemed the perfect opportunity to try and make a Smörgåsbord with a Swedish salad; Swedish style anyway! Something very different for dinner in the ATIE household.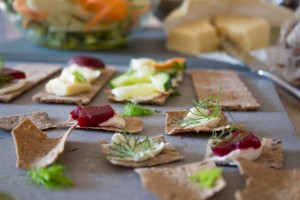 Ingredients
You will need (make as many as you need): 
Pickles

Cheese and cream cheese

Crispbreads

For the salad:
1/2 cucumber, diced

1 small fennel, sliced

1 carrot, peeled into ribbons

Handful fresh dill and parsley, chopped

3-4 spring onions, sliced

3 tbsp olive oil

1/2 tbsp white wine vinegar

1 tsp Dijon mustard

Salt and pepper
Method

I took inspiration for the salad from the Jamie Does book. Put all the prepared salad vegetables into a bowl and mix it together. Whisk the olive oil, vinegar, mustard and salt and pepper together then dress the salad.
Get a big plate or platter out and arrange everything ready to dig in. On mine there was: pickled beetroot, cream cheese, cheddar, the salad and the different crispbreads but you could add all sorts of other things that you like.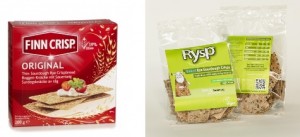 The Finn Crisp crackers were a great base for whatever you want to put on top of them, they have a subtle flavour that I think would go with almost anything. They are a good size to hold and most importantly they don't fall apart when you bite them. My favourite topping for these was cream cheese topped with some of the crunchy salad. RRP £1.19 for 200g from larger retailers.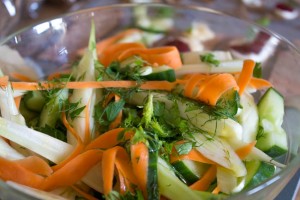 The Rysp (Plain Tasty) crisps come in three flavours: Garlic and Rosemary, Caraway and Black Pepper and Dulse and Sesame. I liked all the flavours and the crisp texture but my favourite was the garlic and rosemary. I'd happily snack on these as the come in place of crisps. The topping I enjoyed most (on the garlic crisp) was a chunk of cheddar with pickled beetroot. RRP £14.40 for 12 x 30g from independent retailers or online.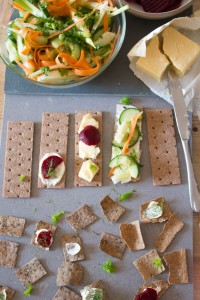 All together this was a fresh and vibrant dinner which left me full but mostly full of salad and beetroot (and a little cheese of course!). The fresh herbs in the salad really lifted it and the dill added a great aniseed flavour. The thing I most enjoyed was picking what you fancied and constructing your own little crackers; it keeps everyone happy and they are different every time.
Thank you to Finn Crisp and Plain Tasty for the crackers and crisps. All opinions and words expressed are my own.