As I rent a house I am in the unfortunate position of being lumbered with the oven and hob that I'm given. Don't get me wrong; having a hob and an oven is certainly one up from having no heating implements at all but they definitely leave a lot to be desired. 
As such a roast dinner is not something I can easily make; a small oven, an untrustworthy thermometer and a lack of appropriate oven dishes being the main reasons. A casserole or stew however I can manage and I think it's better in some ways; less effort, less washing up and the meat is much cheaper. Beef braised in beer with onions and carrots is my idea of a perfect sunday dinner.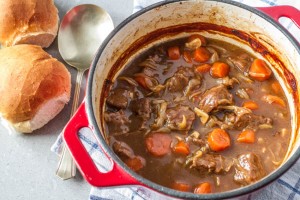 Ingredients
You will need (for two plus leftovers):
Oil for frying

600g stewing beef (I used chuck steak)

4 medium onions, sliced

2 carrots, cut into thick rounds

2 garlic cloves, sliced

1 tbsp plain flour

500ml beer (I used West Berkshire Brewery's Good Old Boy)

100ml water

1 beef stock cube or stock pot

2 bay leaves

1 tsp dried thyme

Salt and pepper
Method
Heat some oil in a lidded oven proof casserole dish until hot. Add the beef and fry until well browned; you may need to do this in batches. Remove the beef from the pan and put to one side.
Add the onions, carrots and garlic to the dish and let them sweat down for 10-15 minutes stirring occasionally and allow them to get nicely browned.
Add the flour and stir in well. Tip the beef back in along with any juices that may have escaped and give everything a good mix together.
Add the thyme and bay leaves, plenty of black pepper, a little salt and crumble in the stock cube. Pour over the beer and water and bring the pan to a simmer.
Put the lid on the dish and place in the oven for around 2 ½ hours or until the meat is tender.
Check the seasoning adding any salt and pepper as needed before serving.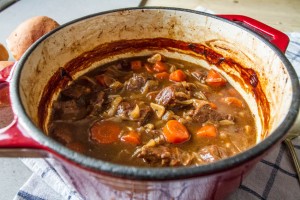 This is the first time I have cooked with beer and it certainly won't be the last. It gives a great colour and flavour to complement the melting onions, sweet carrots and flavourful meat. Using a single cut of beef means that at the end of the cooking time all the meat is at an even stage of tenderness, or 'fallapartability' as I like to call it. This went in the oven, I went out walking. A few potatoes on to boil when I got back and some rolls from the cupboard on the side. Lovely jubbly. If you're as much of a fan of adding beer to your food as I am, might I suggest you check out my beer bechamel that I used to make a macaroni cheese.