The quince used to be a hidden fruit. It seems it was embarrassed of its furry skin, ever varying sizes and odd looks. I had heard rumours of it returning to its former glory and I kept my eyes peeled and nostrils ready for a sight or a whiff of this mysterious fruit. 
I found it. If you have not ever been lucky enough to encounter the quince then scrap any plans this weekend and go and hunt some down. It looks like a pear, is tough like a pumpkin, fuzzy like a peach and smells like a guava crossed with a passion fruit. It's a cheeky fruit that would cheer up even the most dampened spirits.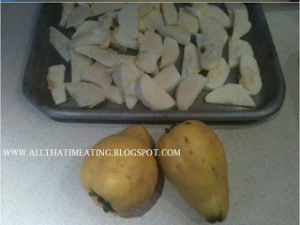 I wanted to make the most of this fruit. Very resourcefully I had frozen some apples that were given to us a while ago and for which I had no use at the time. I made a crumble, it is the season for them after all.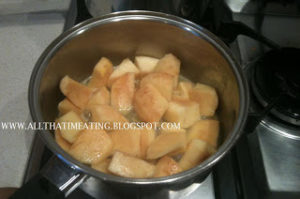 Ingredients
What you will need (for four large servings):
Quinces – I had 2

Apples – I had 1 big one

Knob of butter

Good portion of caster sugar

Bowl of water with lemon juice in

175g flour

75g butter

50g light muscavado sugar

Almonds and oats for the top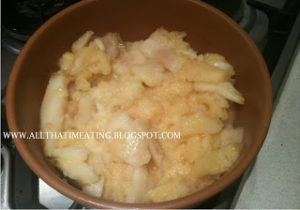 Method
I have never come across anything that will brown as quickly as a quince. It's quite impressive. You will need to super speed peel the quinces and put them in the lemon infused water. Even then don't be surprised at how quickly they change colour. When chopped, put them in a pan with the butter and the sugar. 
I would say don't go too sweet as some of the charm of the quince is in its astringency. I added the frozen apples right at the end so they didn't turn to a mush.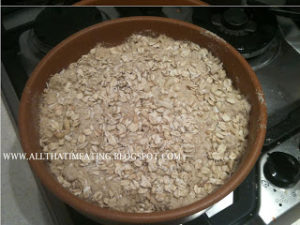 I put this in a small dish so that when it was served, everyone got a good dose of quince. I then crumbled. Rub the butter into the flour and then stir in the sugar. By putting it into a small dish it ensures no one will be short of crumble either. 
I put some crushed almonds and oats on the top too.
It was then a waiting game. I counted down the minutes to see what they tasted like. I had heard of their delicate nature, piquancy and subtlety. I wasn't prepared for their smack you in the face deliciousness.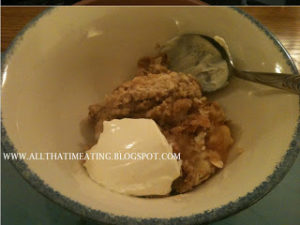 A good spoonful of extra thick cream was essential. I have now acquired the taste for this elusive fruit and I plan to get a tree so I will never be short of a quince.
A charming story I heard when I bought the quinces was of an elderly lady who bought a quince every week and put it in a bowl in her bedroom. She said the scent from one quince was enough to perfume her whole room and reminded her of her childhood.
All That I'm Eating