Game is a difficult food. It's hard to convince people to try it when they are absolutely determined they hate it, if you've never handled it before it can be intimidating to try and skin a rabbit and despite your best efforts sometimes you wonder why you bothered buying venison when you might as well have bought beef. Regardless of all or any of these, game is tremendously delicious.
I don't tend to have 'healthy' recipes on here, nor do I discuss the fibrous merits of the many vegetables I feature but game is a treat without that feeling of guilt. I heard tell that venison contains less fat than a chicken breast without skin. Marvellous news. Venison is obviously trumping the chicken right about now but not only is it pretty much making you lose weight, it is local and seasonal. This game stew makes the most of all game available at this time of the year and some wonderful seasonal vegetables.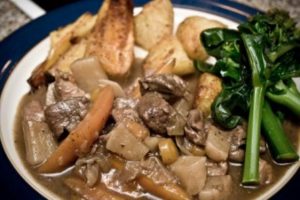 Very fortunately my local butcher sells game pie mix; a glorious mixture of venison, rabbit, hare, pheasant, grouse and partridge. Part of the reason it is so glorious is that there is no plucking, no gutting and no skinning involved. It does sort of take away from the wild to plate romanticism that game represents but at the same time doesn't result in wasting time or money from lack of expertise. Not only does the butcher supply the meat, he also supplies the recipe, the stock and the vegetables.
To make your own game stew you'll need 1lb of mixed game cut into cubes and tossed in seasoned flour and 2oz diced ham. Melt a little butter in a casserole dish and fry a chopped onion, carrot and turnip. You could add any vegetable you like really, the stew's your oyster. When the vegetables are soft, add the game meat and ham and fry until nicely brown. Add a glass (or two) of red wine and 3/4 pint of game or beef stock. I have to say I used an organic stock cube and it was so successful. Bring your sumptuous stew to the boil, cover and simmer for 1-1 1/2 hours. Check the seasoning before serving. I served mine with roast potatoes and purple sprouting broccoli.
This was one of the most enjoyable meals I have cooked in a while. As each piece of game melts in your mouth it's a new flavour; sometimes venison, sometimes partridge. The vegetables are the consistency that you can crush with your tongue against the roof of your mouth and the flavour is remarkable. I've not known a stew to give so much back for so little effort in. Fluffy potatoes with salty, crispy outsides and juicy purple sprouting broccoli finished the meal off.
For those who enjoy game, this is a staple recipe that can be chopped and changed with the seasons. For the game virgin it is a pleasant introduction to an adventure of discovery.