I fancied making some shortbread and in my quest I stumbled across an interesting variation of this classic. It was in James Martin's book entitled 'Desserts' (see link below). I love this book, the recipes are so easy to follow and are always yummy. He calls this particular recipe 'Grandma's caramel shortbread' and I am so grateful she shared this recipe with him so I was lucky enough to be able to make and eat it.
Ingredients
397g can of condensed milk
Method
To begin with, one needs to make the caramel. To do this, put the can of condensed milk in a saucepan and cover with water then bring to the boil. I was a little concerned about doing this as I thought it might explode and cover the kitchen with delicious caramel. It did make some odd sounds but I think was a great success! Leave it to simmer for 2 hours but keep checking it and topping the water up if needed.
It's recommended to leave it to cool until you open it but quite frankly I couldn't wait to indulge in accidental licking of spoons covered in caramel.
Heat the oven to 170C/340F/Gas 31/2. Line a 20 by 30cm baking tin with baking parchment. While it is heating, mix the butter and sugar together until fluffy. Fortunately I had left a vanilla pod in my sugar which I think added to the taste. Sift the flours into this mixture to make a dough. It forms a firm mixture.
Take two thirds of the dough and roll it out to fit the bottom of the tin. Place in the bottom of the tin and gloop three quarters of the caramel over the base. Crumble the rest of the dough mixture over the caramel and bake for 20 minutes.
When it comes out, cut it into portions and leave to cool…or do as I did and burn your tongue. If you can hold off delving in, reheat the remaining caramel and spoon it over. Bit of cream, bit of ice cream on the side or alone makes no difference as it was so so so moreish.
I will definitely make this again.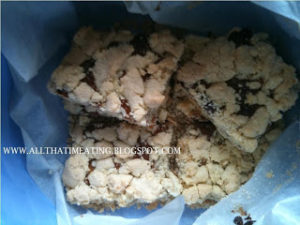 James Martin on the BBC – info can be found
here