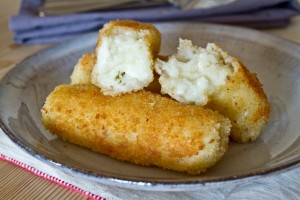 A few days ago it really felt like spring had arrived. I got a bit excited and even opened a window to let some fresh spring air in. It was still pretty chilly but I didn't care; there were daffodils, bumblebees and the smell of blossom in the air. When this seasonal change happens I find myself craving ripe tomato salads, ratatouille and barbecues. Sadly none of these were on offer but not to worry as I had some mint and feta cheese. There's something about mint which makes me feel instantly happy.
Ingredients
You will need (for 4-6 croquettes):
6 medium potatoes

Small knob of butter

120g feta cheese

A few sprigs of mint

Salt and pepper

Seasoned flour

1 egg

Breadcrumbs
Method
Start by peeling the potatoes and chopping them up to roughly same sized pieces. Put these on to boil in salted water until they are soft. Drain and then mash the potatoes with the butter and some salt and pepper. Crumble the feta and chop the mint then stir them both into the potato.
Roll the potato mixture into tubes, balls, squares or whatever takes your fancy. Put the seasoned flour in a bowl, the egg in another bowl (beaten) and the breadcrumbs in a different bowl. Put each croquette into the flour, then egg, then breadcrumbs. When they are all well coated fry them in a little oil in a pan on a medium/high heat until golden brown all over then drain on some kitchen paper. read more