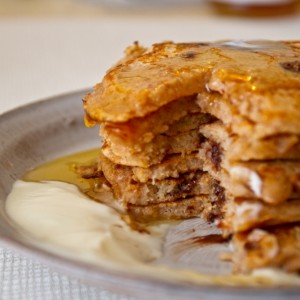 When the weather gets like this there is only one way to improve the situation; to fill your belly with buttery things. More specifically spelt and chocolate pancakes. It seems to have been raining forever recently! Each time I glance out of the window there is never even a peep of blue sky and hardly any bright daffodils to remind me it is in fact Spring. But no matter, I have honey at the ready.
Perhaps not the healthiest advice to give, a more svelte person might suggest a nice jog in the park but it wouldn't quite cut the mustard for me. No, when my fingers are still blue in March I need chocolate and sticky sweet things. That's where these Spelt and Dark Chocolate Pancakes fit in nicely. Rachel's Organic sent me some Greek Yoghurt with Honey to try and I thought it would work nicely with these pancakes.
Ingredients
You will need (for around 16 pancakes):
200g spelt flour

2 tsp baking powder

40g caster sugar

20g melted butter, plus extra for cooking

1 egg

275ml milk

40g dark chocolate chips

Yoghurt with honey to serve
Method
Start by sieving the flour, baking powder and sugar into a large bowl.
In a separate bowl mix together the melted butter, egg and milk until well combined. Stir the egg mixture into the flour mixture and add the chocolate chips. Give everything a good stir to make sure it is well incorporated.
Heat a little knob of butter in a frying pan until it just starts to foam and then drop the pancake mixture in using around 2 tbsp of the batter for each pancake.
Fry the pancakes until they are golden brown before flipping them over and cooking the other side. Don't be tempted to flip too early as you could end up with miserable looking pancake. read more