When you get your hands on some truly spectacular ingredients they don't need much interfering with. I picked up some sublimely sweet tomatoes and a small burrata at a market recently and I wanted these simple ingredients to shine. My balsamic roasted tomatoes and burrata were served with a warm olive studded focaccia which we enjoyed eating outside for the first time this year. When you're serving up tomatoes, cheese and warm bread can you really go wrong?
Ingredients
You will need (for two):
Large handful cherry tomatoes, halved
2-3 tbsp extra virgin olive oil
1-2 tbsp balsamic vinegar
Salt and pepper
Small handful fresh basil
1 burrata (you could use a good buffalo mozzarella if you can't get burrata)
Focaccia (you could use ciabatta instead)
Method
Arrange the cherry tomatoes in a baking dish cut side up. Drizzle over the oil and vinegar and add a little salt and pepper.
Roast the tomatoes in an oven at 200C for 20-30 minutes or until soft and starting to brown at the edges.
Remove from the oven, leave to cool slightly then tear over the basil.
You can warm the focaccia in the oven at the same time as the tomatoes.
Serve the tomatoes with the warm focaccia and burrata on the side. I like to add a little extra virgin olive oil over the burrata.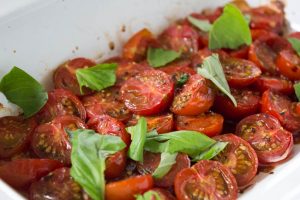 I'm not sure there's much better than taking a warm piece of herby focaccia, spreading some extremely creamy burrata onto it and then topping it with an intensely sweet roasted tomato. Just sublime. I love the depth of flavour that comes from roasting the tomatoes and the fragrant basil finishes them off perfectly; I prefer big shards of basil rather than tiny pieces. A meal of cheese and tomatoes; pure simplicity and, if I may say so myself, absolute perfection.