There's no denying that this is a plate full of colour; it's also absolutely bursting with flavour. These Tandoori Chicken Flatbreads are a recipe of two halves: you can make it all at once, or alternatively, do as I did and batch cook the tandoori chicken and keep it in the freezer to make weeknight meals like this. The flatbreads are topped with a whole load of fresh salad, spiked yoghurt, mango chutney, the warm chicken and fresh chillies. They are really flexible too; you can add or leave out anything that you prefer.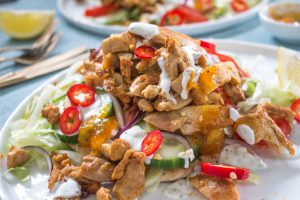 Ingredients
You will need (for two):
For the chicken
4-5 chicken thighs
3 tbsp plain yoghurt
1 tbsp tandoori spice mix
Juice 1/2 lemon
1 garlic clove, crushed
Salt and pepper
If you are batch cooking this bit then double or triple the amounts above.
For the flatbreads
2 chapatis
Handful iceberg lettuce, shredded
1/4 cucumber, sliced
3-4 ripe tomatoes, sliced
1/2 small red onion, sliced
150g plain yoghurt
1 tsp dried mint
1 garlic clove, crushed
1 lemon
Salt and pepper
Mango chutney
1 fresh chilli, sliced
Method
Mix all of the ingredients for the chicken together, except the thighs. Add the thighs to the marinade and ensure they are well coated. Leave to marinate overnight or for at least an hour.
Preheat the oven to 180C.
Pop the chicken thighs onto a non-stick baking tray and then roast in the oven for 30-40 minutes or until the chicken is cooked through. They would be even better if you could barbecue them!
While the chicken cooks, assemble the flatbreads.
Warm the chapati according to packet instructions. If I had time I would make my own chapati or flatbread.
Place the chapati on a plate and add the lettuce, cucumber, tomato and onion.
Mix together the yoghurt, mint, garlic, juice of 1/2 the lemon and some salt and pepper.
When the chicken is cooked chop it up into small, bitesize pieces. If you are freezing the chicken I find it easier to chop it first and then freeze it.
Add the chicken to the flatbreads, drizzle over the minted yoghurt and mango chutney then finally sprinkle over the chillies. Squeeze over the juice from the other half of the lemon.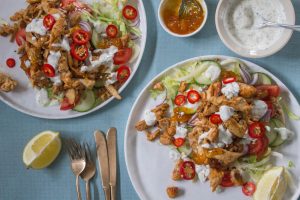 I find that self-compliments are always the best kind and these tandoori chicken flatbreads are somewhat sensational. The chapati makes a great wholesome base. Alternatively you could use a garlic naan bread instead; I have and it's delicious! These flatbreads are spiced and spicy, clean and fresh, hot and cool, sweet and savoury. They make a brilliant weeknight dinner simply by chucking some chicken in the oven and doing a quick bit of chopping. What more could you want on a Wednesday?
And, as you'll already have half of the ingredients for these flatbreads you can use up the other half in my Greek salad!