You know when you see a recipe and you can't get it out of your head? It all started when I saw a recipe for buffalo cauliflower, it sounded so good. Then I saw an idea for some seriously loaded nachos. The combination of the two sounded like a dream. These pulled buffalo chicken nachos are everything I wanted them to be: spicy, slightly sweet, covered with cheese and full of texture. Perfect for sharing on the sofa.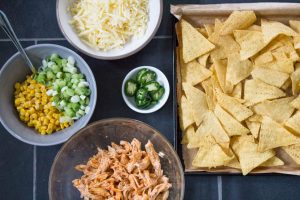 Ingredients
You will need (for two greedy people):
Two chicken breasts
Salt
3-4 tbsp buffalo sauce
1 bag plain nachos
1 small tin sweetcorn, drained
4 spring onions, sliced
1 green jalapeño chilli, sliced
150g mild cheddar cheese, grated
Ranch dressing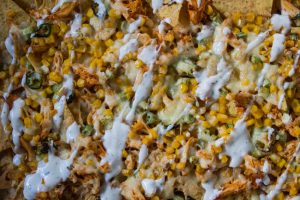 Method
Bring a large pan of water to the boil and add a little salt. Drop the chicken breasts into the water, bring the pan back to the boil and then reduce to a simmer. Cook the chicken for 10-15 minutes or until cooked through.
When the chicken is cooked pull it apart with two forks so you end up with a pile of shredded chicken. If you haven't shredded chicken before it's surprisingly easy to do!
Mix the buffalo sauce into the chicken. How much you use will depend on how spicy you want the chicken to be so taste it as you go and add more or less sauce if you like.
Preheat an oven to 180C.
Line a large baking tray with some greaseproof paper. Add the nachos to the tray and spread them out so the whole tray is covered.
Dollop the chicken on top of the nachos followed by the sweetcorn, spring onions and jalapeños. Finally, sprinkle over the cheese and then pop into the oven for 15-20 minutes or until the cheese has melted and things are starting to turn golden brown.
Pour over copious amounts of ranch dressing and then tuck in.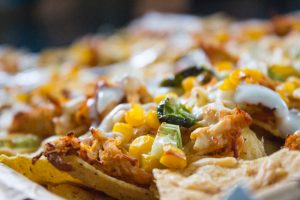 These buffalo chicken nachos were so indulgent and I love them for exactly that reason. No holding back on anything they were fantastic to scoop up while watching a film. Spicy, juicy pulled chicken, sweet and crunchy sweetcorn and spring onions, fresh jalapeños, tangy cheese and cooling ranch dressing. As I still have some of that buffalo sauce left I will be trying this with potato wedges next time.