Feta's not just for salads you know. I enjoyed something similar to this tomato baked feta while in Greece a few years ago; I needed to try and make it at home. I have previously posted about some Greek inspired feta and tomato spaghetti (which is delicious by the way) and the key to both of those dishes is using the best tomatoes and feta you can get your hands on. In this case it's also about baking the tomatoes perfectly; not too hot so that they dry out and not too cool so that they turn into mush.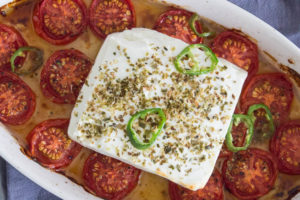 Ingredients
You will need (for the cheesiest sharing dinner for two):
250g ripe tomatoes, halved
2 tbsp extra virgin olive oil
Salt and pepper
1 block feta cheese
1/2 green chilli, sliced
1 tsp dried oregano (if you have fresh, all the better)
Method
Preheat an oven to 200C.
Put the tomatoes into a baking dish in a single layer so that they fit snugly but there are a few gaps. Drizzle over the olive oil and add a little salt and pepper.
Bake for 20 minutes.
Remove the tomatoes from the oven and add the sliced chillies and feta (try and keep the feta in one block if you can). Sprinkle over the oregano and return to the oven for another 15 minutes.
Serve on the table with some crusty bread and get dunking or serve with a herby pasta salad.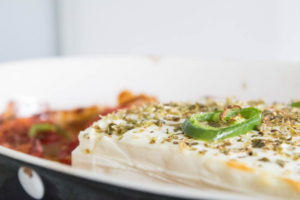 If you've not tried baking feta before I urge you to give it a go; the edges catch and turn golden brown but the middle turns gooey and soft. If you don't fancy adding the chilli you can leave it out, it adds a lovely fresh chilli flavour but you could use a few thin strips of pepper. There are loads of variations of this you could try; roast on top of mixed veg, add a few olives or peppers or if you can get hold of some use kefalotyri instead of feta.