This is the first of a series of recipes aimed at giving you a few new ideas for the next time you're after pasta for dinner. I'm sure I am in the majority of people who eat pasta at least once a week. And why not? It's a carbohydrate that goes with everything and sometimes is at its best simply served with butter and cheese; because you chose to not because the fridge is empty. Of course. The first of these new pasta recipes is for Creamy Chicken, Leek and Mushroom Pasta Bake.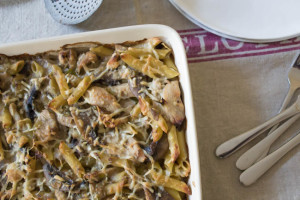 You will need (for four):
2 small chicken breasts, diced or in strips
Oil for cooking
2 medium leeks, washed well and sliced
4 portabello mushrooms, wiped and sliced
2 garlic cloves, crushed
350g pasta (I used penne)
125ml chicken stock
150ml single cream
Salt and pepper
30g Parmesan cheese, grated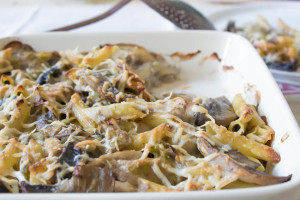 In a large frying pan heat a little oil over a medium heat. Add the chicken and fry until cooked through and lightly golden brown. Remove the chicken from the pan and keep to one side.
Put the pan back on the hob and reduce the heat slightly. Add the leeks and cook for around 10 minutes until softened. Add the garlic and the mushrooms and continue to cook for a further 10 minutes or until the moisture has come out of the mushrooms and they have shrunk slightly.
Add the chicken back into the pan with the stock, cream and a pinch of salt and pepper. Simmer gently for around 10 minutes until the mixture is slightly thickened.
While the chicken mixture is reducing cook the pasta in a large pan of boiling water for 8-10 minutes, drain when cooked al dente.
Preheat an oven to 180C. Mix the pasta into the chicken mixture and ensure everything is coated with the sauce. Tip the mixture into an ovenproof dish and scatter the Parmesan over the top.
Bake for 20 minutes until the cheese is golden.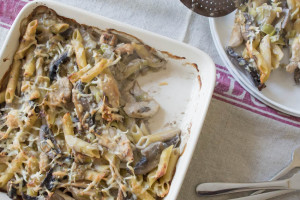 Pasta bakes have to be up there amongst my favourite comfort foods. I made enough of this for four people and kept half for the next day; it makes delicious leftovers. There is just enough sauce to make sure everything is coated but not too much that it's swimming in cream; the mushrooms and leeks are earthy and full of flavour and the chicken works really nicely with these classic flavours. I think it would work with leftover roast pork too.