There's a certain time of year where the contents of the veg box are suddenly more vibrant. There's something red or orange which isn't a carrot and something green which isn't cabbage. Don't get me wrong, I have nothing against a good brassica but when the first spring vegetables come through you know that it's not long until the spring and summer veg are in full swing. To mark this occasion I made a spring vegetable tray bake; to celebrate all that is delicious at this time of year.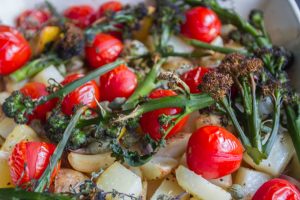 Ingredients
You will need (for two):
3-4 medium to large potatoes, scrubbed and diced
1 onion, peeled and sliced
Large handful cherry tomatoes
Small bunch purple sprouting broccoli
A few sprigs fresh thyme
3-4 large garlic cloves, crushed
1 lemon, quartered
1 tbsp capers, drained
Olive oil for cooking
Salt and pepper
Method
Preheat an oven to 180C.
Add the potatoes, onion, garlic, lemon and thyme to a baking dish and pour over a little olive oil and salt and pepper. Mix everything together well so that the oil is coating all the vegetables.
Put the dish in the oven and bake for 20-25 minutes.
Remove the dish from the oven and give the onions and potatoes a good stir. Add the tomatoes, purple sprouting broccoli and capers and then return the dish to the oven for another 10 minutes.
Serve as it is or see below for some ideas to serve it with.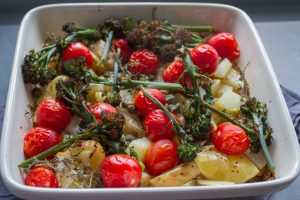 This recipe ended up being accidentally vegan. If you wanted to shave over some Pecorino or crumble over some soft goat's cheese I think it would be a fantastic addition. I also think that this would make a cracking tray of spring vegetables to go alongside some roast lamb. Garlic, olive oil, lemon and thyme always work so well together and with sweet tomatoes, salty capers and fresh purple sprouting it was truly a dish to make the most of these seasonal ingredients. We enjoyed our spring vegetable tray bake simply; the very best ingredients only need a little help to shine.