I don't know about you but I find it difficult to know what to cook when it's hot. I don't want to be hanging around the oven or hob making unnecessary heat but I also don't want to eat cold food all the time. The worst thing about it is having to do the washing up (no dishwasher in my house!) when all you really want to do is sit outside. I think this meal of Greek salad, hummus and pitta bread is a great compromise; there isn't too much clearing up afterwards and the toasted pitta bread means that it's not an entirely cold meal.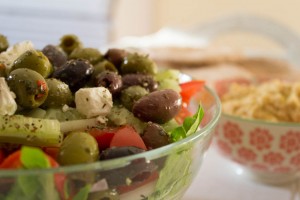 Ingredients
You will need (for four):
For the hummus:
1 can chickpeas  £0.65

1 garlic clove  £0.03

2 tbsp extra virgin olive oil  £0.10

1 tsp peanut butter  £0.10

Salt and pepper  £0.10
For the Greek salad:
1/2 cucumber, sliced  £0.30

3-4 tomatoes, sliced  £0.50

1 small onion, sliced  £0.10

1 small lettuce, chopped  £0.40

1 pack mixed olives and feta  £2.20

1-2 tbsp extra virgin olive oil  £0.10

1 tsp dried oregano  £0.05





Total £5.13
Method
Start by adding all the ingredients for the hummus to a food processor and blending until smooth. If the hummus is a little thick you can add a little extra oil or a small amount of hot water.
Mix all the ingredients for the salad together, except the olives, then top with the olive and feta mix.
Heat up the pitta breads according to packet instructions.
Pour a little extra virgin olive oil over the salad and sprinkle over the chopped oregano and a little salt and pepper.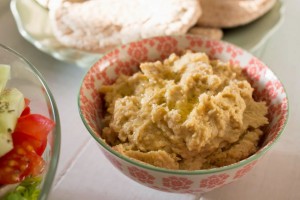 Perfect for a warm evening and with so many flavours and textures I think the salad itself is really filling. To keep everyone happy the pitta bread and hummus adds extra filling potential. If you're extra clever (which I'm not) then make double and have it for lunch the next day. Anything that minimises effort, tastes good and doesn't take too long is fine by me!