A couple of courgettes turned up in the veg box this week. Although the days have been warm, borderline hot, recently the evenings are still cold reminding me that it's firmly still spring. I'm certainly not complaining, I prefer spring in some ways; mostly that the heat (if any) is not muggy and there are many, many fewer insects. All the more enjoyable for al fresco dining I think you'll agree; insects in summer mean I am forever swiping the air to deter a particularly determined fly or being chased round the garden by a wasp with a bad attitude. Not the epitome of glamour and demure that I aim for in every garden dining experience. But not to worry, ones absence from the dining table will hardly be noticed when a plate of these Olive and Fontina Baked Courgettes are served up.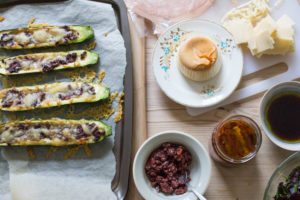 Ingredients
You will need (for two or four as a side):
2 courgettes, sliced lengthways
Handful pitted black olives
1 tbsp extra virgin olive oil
75g fontina cheese, grated (if you can't get fontina you could get away with a comté or emmental)
Method
Preheat an oven to 200C. Scoop out some of the courgette seeds with a teaspoon then pop the halved courgettes onto a baking tray and bake in the oven for 15 minutes.
While the courgettes bake blend the olives and olive oil in a blender to make a chunky paste.
Remove the courgettes from the oven and spread the olive paste over the inside of each courgette. Sprinkle the grated fontina over the top and return to the oven for another 10 minutes.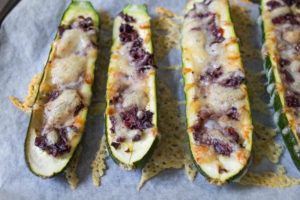 If you grow your own veg you'll be aware of the ubiquitous gardening related melodramas involving too many courgettes, all ready at the same time and the culinary question of doom, "Courgette fritters anyone?". Having been previously drowning in courgettes myself I have been through many of the available courgette relieving remedies: ratatouille, roasted or raw in salads, pasta sauces, fritters, omelettes and even cakes. This is certainly my new favourite way to dish them up, the salty olives and creamy cheese are fantastic with the grassy courgette, and I can feel several variations coming along for the summer involving different fillings and cheeses.