Using sausages when making a pasta sauce is a great way to add depth and flavour to the sauce and cut down on cooking time too. My most recent recipe creation came about because I had one too many broccoli heads in the fridge; so my sausage, broccoli and spinach pasta was born. I used some delicious Italian sausages for this which were flavoured with plenty of herbs and a little fennel. The spinach was added as an afterthought but actually I really liked the earthiness it brought to the dish.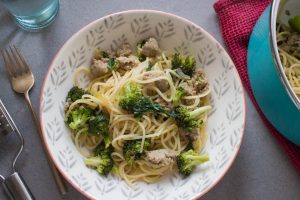 Ingredients
You will need (for 6 portions, it freezes well):
1 onion, finely sliced
6 Italian sausages
2 cloves garlic, crushed
Pinch dried chilli flakes
1 head broccoli, cut into small florets
150ml chicken or vegetable stock
Handful fresh spinach, roughly chopped
Salt and pepper
Olive oil for cooking
Method
Start by adding a little oil to a large frying pan on a medium heat. Add the onion and fry for 10 minutes or so until softened.
Squeeze the sausage meat from the skins into the frying pan. Fry the sausage and onion together until the sausage is cooked through and starting to turn golden brown. Break the sausage meat down with a wooden spoon while it cooks.
Add the garlic and chilli to the pan and fry for another minute or two.
Tip in the broccoli and stir everything together well then add the stock and pop a lid on the pan.
Bring the pan to a boil then remove the lid and let it reduce to a thick sauce. Add the spinach for the last minute or so of cooking.
Cook the pasta according to pack instructions while you're waiting for the pasta sauce.
Drain the pasta and season the pasta sauce then mix everything together and serve up.
I like how some of the broccoli breaks down and some stays in larger pieces and it gets really mixed through the sauce. The spinach ends up all silky and the chilli adds the tiniest bit of warmth to the sauce but it's by no means spicy. Depending on which sausages you use the sauce will taste different so it's a great excuse to play around with all sorts of flavours. If you mixed this with a little tomato or béchamel sauce I reckon it would make a spectacular pasta bake.