I've tried to make falafel a few times before without much success; it seems to fall apart when I cook it. Experimenting with this falafel recipe, a bit more of this and a bit less of that, means that I've now ended up with a pretty sturdy recipe. These carrot falafel are really easy to make; everything gets blended together, and I've served them with all my favourite sides. Quick pickled onions will be appearing on everything from now on!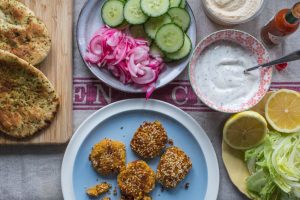 Ingredients
You will need (for two):
1 tin chickpeas, drained and rinsed
100g carrots, grated
1 clove garlic, crushed
1/2 tsp ground cumin
1/2 tsp sweet paprika
Zest 1 lemon
1/4 tsp chilli powder
Salt and pepper
1 tbsp plain flour
Sesame seeds
Oil for frying
For the Pickled Onions
1 red onion, thinly sliced
1 tbsp sugar
1 tsp salt
100ml white wine or cider vinegar
Sides
Yoghurt, dried mint, garlic, lemon juice – use a vegan yoghurt to make it vegan
Flatbreads
Chilli sauce
Hummus
Cucumber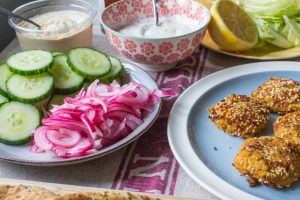 Method
Falafel
Start by squeezing any juice out of the grated carrot.
Add all the falafel ingredients (except the sesame seeds and oil) to a blender and blend until mostly smooth but still with a little texture remaining.
Form the mixture into balls, I like to flatten mine slightly, then refrigerate for half an hour to an hour. You can get all the sides ready while the falafel are in the fridge, see below.
Place some sesame seeds onto a small plate or into a bowl and coat each side of the falafel in sesame seeds.
Heat a little oil on a medium heat in a non-stick frying pan. Fry the falafel on both sides, turning them over gently, until golden brown. You may need to fry the falafel in batches depending on how many you have. Keep them warm until you're ready to serve.
Sides
To make the quick pickled onions put the sliced onions into a small heatproof bowl. Mix the vinegar, salt and sugar together in a small saucepan and stir until the sugar and salt have dissolved.
Bring the pan of vinegar up to the boil (you might want to put a lid on the pan while you do this as it can smell pretty strong!) then remove from the heat, pour over the onions and leave to cool.
Once the onions are cold strain off the vinegar and the onions are ready to go.
Make the yoghurt dip as you like it. Personally I like a tiny bit of garlic, plenty of dried mint and a good squeeze of lemon. If you wanted to you could make a tzatziki instead, I've got a delicious beetroot tzatziki recipe!
Shred up some nice crisp lettuce leaves, slice the cucumber, warm up the flatbreads and get out the hummus and chilli sauce!
I love how colourful this is when you have everything together; the orange falafel, purple onions, green cucumber and lettuce, speckled yoghurt and red chilli sauce. There are so many flavours going on too with the spices in the carrot falafel, acidity and bite from the onions, cooling cucumber and yoghurt and heat from the chilli. I often find my fridge has a few odds and ends in at the end of each week so I have used up plenty of lonely fridge veg by making different sides; add some sweetcorn or tomato salsa, stir some fresh herbs through the yoghurt or serve up some roasted peppers on the side.