I always think cauliflower is at its very best when served with cheese. As much as I think this is still true I have been really enjoying roasting and frying it lately and this cauliflower and sundried tomato pasta is my current favourite way to eat cauliflower. Cheap to make, vegan, delicious and so fast to cook; we're talking 15 minutes from fridge to table. If only all weeknight cooking could be like this!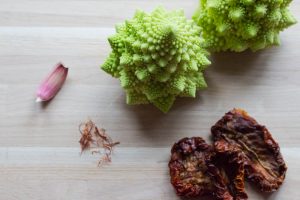 Ingredients
You will need (for four servings):
300g pasta £0.30
1 small romanesco (or other) cauliflower, chopped into small florets £1.50
6 sundried tomatoes, finely chopped £0.30
2 small garlic cloves, crushed £0.10
3 tbsp extra virgin olive oil £0.15
Pinch saffron £0.50
Salt and pepper £0.02
Total £2.87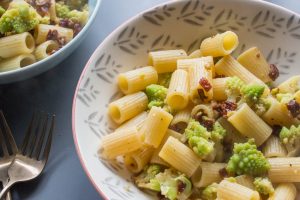 Method
You'll need a pan full of boiling water with a steamer to go on top. It's no problem if you don't have a steamer; you'll just need an extra pan of boiling water for the cauliflower.
Bring the water to a boil, add a little salt then stir in the pasta. Put the steamer over the water then add the cauliflower to the steamer and put the lid on. Leave the cauliflower to steam for 4 minutes.
Meanwhile get a small frying pan on a medium heat and the olive oil and garlic. Leave the garlic to warm up and infuse the oil for a minute or two before adding the sundried tomatoes and saffron.
Remove the cauliflower from the steamer and add this to the pan with the tomatoes. Fry everything together for a few minutes then add a ladleful of the boiling pasta water. Break the cauliflower up with a wooden spoon as it cooks.
By now the pasta should be cooked, test it to make sure, then drain it.
Stir around two thirds of the cauliflower mix through the pasta and serve up; use the remaining third to sprinkle over the pasta at the end.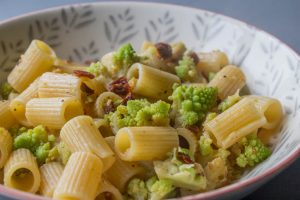 Adding the saffron really does add a fantastic flavour and colour to the dish but you could leave it out if you wanted to. Any cauliflower would work for this but I think the green romanesco is so lovely to cook with. If you fancied grating over a little Parmesan I think that would be a delicious addition. I might try adding some toasted pine nuts or finely chopped chilli next time. When I was in Italy last year we made a dish similar to this which used courgettes rather than cauliflower so I'll definitely be trying that in future too!