The food in Italy was everything I wanted it to be and Tuscany in particular was filled with incredible locations to eat amazing food. We went to a restaurant in Montepulciano on our first night in Tuscany; it was in an old wine cellar and the food was sensational. I ordered the Tuscan Sausage Ragu and along with a glass of local red wine and Italian hospitality it was such a memorable meal. I wanted to try and recreate the flavours, if not the ambiance, at home and my version of this sausage ragu has been through a few different variations until I've reached the recipe below. It's not exactly the same but it's wonderfully delicious in its own right.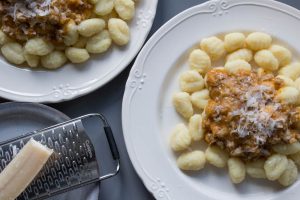 Ingredients
You will need (for eight portions in total):
6 good quality preferably Italian sausages (a good herby one with a little spice would work well)
1 large carrot, peeled and roughly chopped
1 medium onion, peeled and roughly chopped
1 large stick celery, roughly chopped
Good lug of mild olive oil
1 tbsp tomato paste
Sprig fresh rosemary
1 small glass white wine
1 tbsp plain flour
600ml hot chicken stock
Salt and pepper
Gnocchi (or other pasta) to serve
Parmesan cheese to serve
Method
Start by adding the carrot, onion and celery to a food processor and blitzing until very finely chopped.
Add the vegetables to a large frying pan with a good dollop of oil and fry gently for at least 20 minutes until the vegetables are really soft and starting to turn lightly golden.
Increase the heat on the pan to medium and squeeze the sausage meat from the skins into the pan. Continue frying everything together until the sausage meat is really broken up and turning golden.
Stir through the tomato paste and rosemary before adding the wine. Leave the wine to bubble until it's almost all completely gone.
Add the flour and stir this through well, then add the chicken stock. Bring everything to the boil and then reduce to a simmer and leave for 10-15 minutes until thickened. Season and keep warm over a low heat.
Cook the gnocchi according to pack instructions (if you fancy making your own I have a recipe you can use) and then serve the gnocchi up with a spoonful of ragu and top with Parmesan.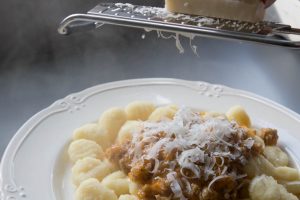 You might be thinking that six sausages doesn't sound like enough for eight portions. The point of this ragu is that it is so full of flavour that you need a really small portion; a few small pieces to coat the gnocchi here and there, not lots of sauce. If you're very lucky you'll be able to head to an Italian deli and pick up some fantastic Italian sausages for this, otherwise as mentioned above, try and get something full of herbs or a few spices. Homemade gnocchi would take this to a whole other level and I think the restaurant I ate this in originally had added Parmesan to their gnocchi for extra oomph. I can't wait to get portions of this out of the freezer over the next few weeks!