Each week I try to include something on my meal plans that I can make extra portions of to keep in the freezer. Sometimes they are complete meals, like a cottage pie or soup; and sometimes they are parts of meals, like a curry sauce or pizza base. If it takes a bit of effort or time to make or lends itself easily to be scaled up then I am all for it. This year I am trying to batch cook wherever I can and pile the freezer up with proper homecooked food; meals or sauces that I can grab quickly to make my weeknight cooking even easier. These are the dishes that I find work really well when cooked in a big batch; I usually have at least two of these in the freezer at any one time!
Proper Ragu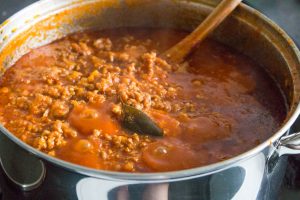 This ragu does take some real dedicated time to make; the longer you leave it the more delicious and rich it becomes. The sauce is so full of vegetables and both beef and pork mince, that you only need a small amount with pasta. It's amazing with spaghetti, gnocchi and in pasta bakes and lasagne. My recipe makes enough for 10 portions; it's so worth the time to make it.
If you fancy an alternative to this ragu then you could try my Fennel and Sausage Ragu. It's quicker to make and the spicy sausage meat and aniseed flavours work so well together.
Pizza Bases and Tomato Sauce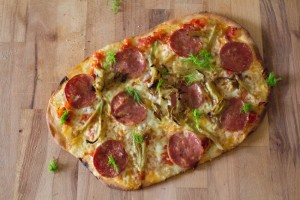 I love making fresh pizza! Using homemade dough and sauce made from fresh tomatoes is just so delicious. Fortunately my recipe for Batch Cooking Pizzas makes enough for six large or eight small pizzas and the tomato sauce enough to be able to top each one too.
The dough and sauce both freeze well; the trick with the pizza dough is to add a little extra flour when you roll it out as it becomes a little sticky after defrosting. The tomato sauce is also great to use as a base with pasta sauces. Two for one!
Beef Stew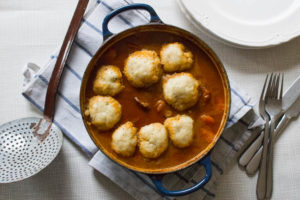 Tucking into a big plate of homely beef stew is just perfect in the colder months. My recipe for Beef Stew is a real classic; no fuss, just real honest flavours. Having portions in the freezer means they can be popped in the oven to reheat along with baked or roast potatoes. You can also stick some dumplings on top too!
If you want to try something slightly different I also have a recipe for Beef Braised in Beer with Onions.
Lentil and Black Bean Chilli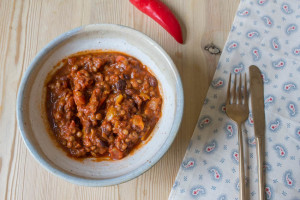 This is the recipe I turn to when I have people coming over for dinner; even better if I've already made it! My Lentil and Black Bean Chilli is vegan and so full of vegetables and flavour. This recipe makes four large portions; it's probably actually more like six to eight normal portions!
It lends itself well to being cooked in a huge batch and the ingredients are so cheap too. I've used my frozen portions of this with rice, baked potatoes, burritos (I had to reduce it down first), added extra tomatoes to make a soup and layered up lasagne style with tortillas.
Enchilada Sauce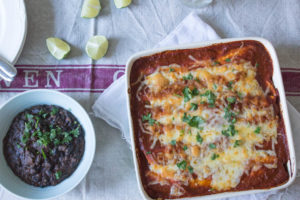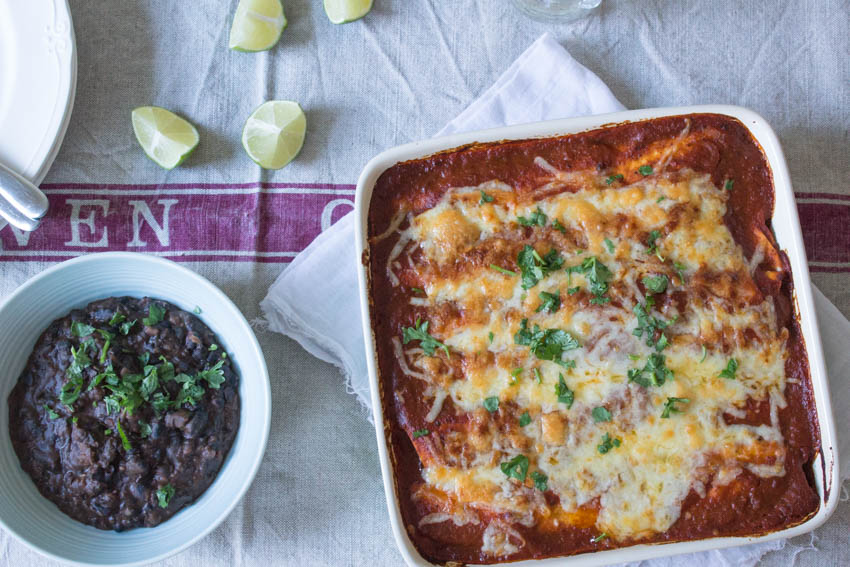 There are a lot of stages involved when making enchiladas so by keeping my enchilada sauce in the freezer it takes out a whole step when I'm getting dinner ready. My Ulitmate Chicken Enchiladas are definitely worth a try and the enchilada sauce can be scaled up easily. The sauce can be used in any enchiladas you like; chicken, beef, pork, veggie or it can be used in tacos, baked nachos and a whole world of other dishes!
I'd love to know if you batch cook anything as I'm always looking for new ideas to try. What's your go-to recipe to keep in the freezer?