We were about halfway through this meal when the OH turned to me and said, "This is the best dinner we've ever cooked". High praise indeed. Although I once baked a whole cabbage and anything would be an improvement on that. Chicken enchiladas always remind me of my University days. My friend Kathryn and I would convince ourselves we could definitely eat four people's worth of enchiladas. We'd cook it all up and be full after just half of the available enchiladas, look at each other and say, "Next time, we'll just cook half ok?". We never learnt. I haven't made enchiladas since then and I thought it was high time I made some proper ones.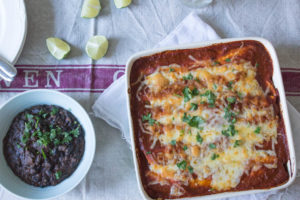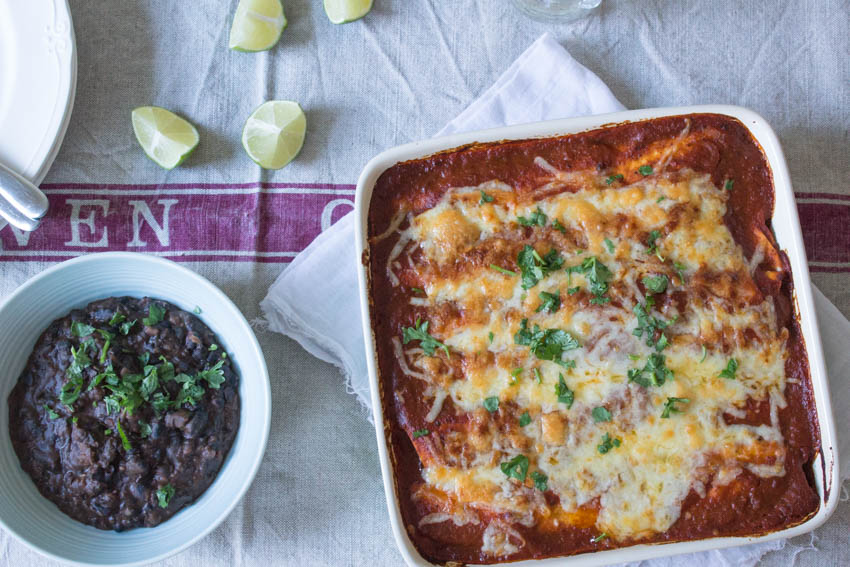 Ingredients
You will need (to feed 3-4 people):
For the enchilada sauce
1 red onion, sliced
2 garlic cloves, sliced
1 tsp ground cumin
1 tsp paprika
1 dried chipotle chilli, roughly chopped
500ml tomato passata
1 tsp dried oregano
½ tsp sugar
Salt and pepper
Oil for cooking
For the enchiladas
2 chicken breasts, diced or sliced
1 onion, sliced
Oil for cooking
6-8 tortilla wraps
120g cheddar cheese, grated
Method
Start by making the enchilada sauce. Add the onions and garlic to a saucepan with a little oil and fry gently for at least 20 minutes until softened and starting to turn golden brown. You want to slightly caramelise them to bring out their sweetness.
Add the cumin, paprika and chilli and fry for another minute more.
Pour in the passata, oregano, sugar and add a little salt and pepper. Cook for 15 minutes or so until the mix has reduced by around a third.
Leave to cool slightly before blending until the sauce is smooth. Taste and add more salt or pepper if needed.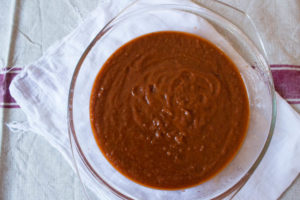 Put a frying pan on a medium heat with a little oil and add the onion. Fry gently for 10 minutes until softened then add the chicken and turn up the heat. Cook until the chicken is golden brown and cooked through. Add just less than half of the enchilada sauce to the frying pan and ensure all the chicken is well coated.
Divide the chicken mixture between the tortillas. Wrap each one tightly and lay in a baking dish so they fit nice and snugly.
Pour the remaining sauce over the top of the wraps then top with the cheese.
Bake in a preheated oven at 180C for 15-20 minutes until lightly golden brown on top.
Serve with Mexican black beans (recipe for these here), guacamole, sour cream, extra chilli sauce and whatever you like!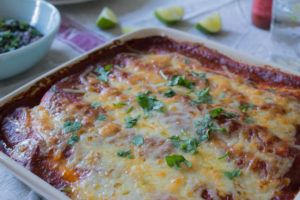 If you can't find chipotle chillies then I'm sure chipotle paste would be a great alternative. It's the smoky flavour that you're after along with a bit of heat. It's taken a few tries to perfect this recipe but I've cracked it! Caramelising the onions is key to give the sauce a nice bit of sweetness. Not only can it be used for enchiladas, you can use it for chilli con carne and fajitas too (and even for a Mexican twist as a pizza sauce!).