There's ragu, and then there's proper ragu. You know the two kinds I mean; the quick one that we Brits chuck on top of a pile of spaghetti and the one that takes time, effort, care and attention to make. Don't get me wrong, the former has its place but this recipe is for the latter; which incidentally freezes very well meaning it is perfect for cooking up a big batch and then reaping the rewards in the weeks to come. It has taken a long time to get this recipe to be my version of a perfect ragu so I hope you enjoy it.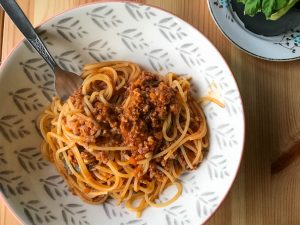 Ingredients
For 8-10 portions:
2 tbsp olive oil
1 tbsp extra virgin olive oil
2 onions, peeled and roughly chopped
3 carrots, peeled and roughly chopped
2 sticks celery, peeled and roughly chopped
3 garlic cloves, peeled
3 sundried tomatoes (dried, not in oil), you can use 2 tbsp sundried tomato paste instead and add it when the tomato paste goes in
500g beef mince
500g pork mince (pork shoulder if you can can it)
2 rashers smoked streaky bacon, finely sliced
150ml red wine (optional)
2 tbsp tomato paste
700ml passata
4 bay leaves
1 tsp dried rosemary
1 tsp dried thyme
Salt and pepper

Method
Add the onions, carrots and celery to a food processor and blend until finely chopped. You can do this by hand of course but I use the blender as it's so much quicker.
Get a large lidded saucepan on a low heat and add the oils. I use a blend of the two to add a bit of flavour from the extra virgin.
Tip the blended vegetables into the oil, pop the lid on and leave to soften for at least 20 minutes. Stir from time to time.
Finely chop, crush or blend the garlic and sundried tomatoes then add these to the vegetables.
Remove the lid from the saucepan and increase the heat to medium. Add the bacon, beef and pork mince and fry until everything is nicely browned. You want to stir it regularly to break the mince up. Keep frying everything until any water that comes out has completely evaporated.
Add the wine (if using) and continue cooking until it's reduced by at least half.
Tip in the tomato paste, passata, bay leaves, herbs and a little salt and pepper. Fill the passata jar to around a quarter full with water, swish the jar around to get any leftover passata off the sides and then add this tomato water to the pan. Give everything a really good mix then bring the pan to the boil. Reduce the heat to low, put the lid on and leave to simmer for at least an hour and a half.
Stir from time to time and continue cooking until the mixture has thickened. The longer you leave it the more intense it becomes.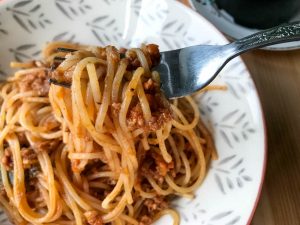 You can taste every layer of flavour in this ragu; the sweet earthy vegetables at the base, creamy olive oil, the savoury richness from the sundried tomatoes and wine, the faint smokiness from the bacon, the meat has broken down giving it a fantastic texture, finishing with the slightly acidic tomatoes and aromatic herbs. It is truly a delight to cook and eat. This recipe makes enough for at least ten servings so you can use it with pasta, lasagne, stuffed vegetables and all sorts. Yes it takes a bit of time but I'm not sure there's anything better than this I'd happily wait for.