I have been writing my meal plans for a few years now and I often get asked how to do a weekly meal plan. Speaking to friends a few weeks ago they said they would all love to use meal plans but had either lost a bit of inspiration with what to cook or thought they would struggle to come up with ideas. When it comes to actually putting pen to paper, or finger to screen, it can seem there are so many things to consider that it's hard to know where to start. Don't worry though, this post is all about how I started doing meal planning and how, over time, I have wasted much less food, saved time in the kitchen and really expanded my cooking repertoire. And you can too.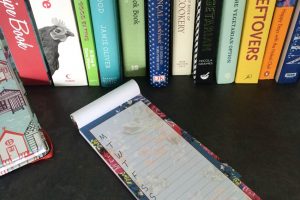 Some basics first:
Don't take it too seriously.
No one is going to mind if you end up swapping Tuesday's meal for Wednesday's or if you fancy a takeaway on the Friday night instead, the meals can normally be moved around (use by date dependent!). I don't see a meal plan as a set of rules that must be adhered to but more of a flexible hand in the kitchen gently reminding you that you've got something delicious for dinner.
Start small and get bigger.
When you start off meal planning start with just planning all the meals over the weekend, say Friday to Sunday (ideally with some leftovers for the Monday!). Then, when you've got into the swing of it you can do Monday to Thursday, but hang on we've got leftovers from Sunday, so actually you're already planning five nights of the week without realising and what's two more days?
What's important to you.
There are so many different ways you can think about your weekly meal plan so it can help to set yourself a goal. One of mine this year is to use more of my spices so I always try to pop in a meal or two that will use them up. Maybe you want to start introducing more vegetarian meals into your week or perhaps you want to work on using up all those leftovers in the freezer.
Start with what you know.
Just because you're meal planning doesn't mean every meal has to be something new! If your family favourites are chilli con carne, macaroni cheese and baked potatoes then plan these in, you're in familiar territory.
Think about the ingredients.
Getting really good at this just takes a bit of time but it really helps to save food waste and money. If you need some fresh herbs for a recipe you're planning, are there any other meals you can use it in or something you could add some to so you can use them up? If you're planning a meal with beans in and it calls for borlotti and you've got a cupboard full of cannellini then just use the latter.
Vary your veg.
It's really easy to make a simple change to a recipe just by changing some of the vegetables for something different. Tried a recipe with roasted peppers, why not try roasted tomatoes? Try out a courgette topped moussaka rather than aubergine. I always try (but sometimes it doesn't work out) to have at least two portions of veg with my dinner.
Meal planning methods:
I'm going to break down the different methods for meal planning that I've used in the past, and still use now, to show you how you can go about it. It's worth remembering that you can actually use more than one of the methods below at the same time as they do work together, before you know it you'll be doing all of them! There is a weekly plan below each one to give you some ideas for where to start.
The carb method
This is how I started planning each week and I think it's a really easy way to do it. The idea is that you don't have the same source of carbohydrate on consecutive days. By varying the source of carbohydrate you can easily change what you serve it with; it also means you won't get bored of eating the same thing all the time.
Monday – Tomato, mozzarella and olive pasta
Tuesday – Piri piri chicken with brown rice salad
Wednesday – Jacket potatoes with beans, cheese and veggie sausages
Thursday – Blackened salmon with quinoa salad
Friday – Jerk aubergine, sweet potato wedges and roasted veg
Saturday – Mushroom risotto
Sunday – Antipasti and focaccia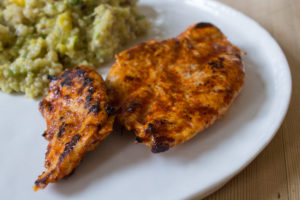 The veg box method
This is a method I started to use by accident. The idea here is that the veg box arrives and you have a week to use up all the contents, before the arrival of the next veg box. It allows for much more creativity as you'll likely end up with ingredients that wouldn't normally be part of your weekly shop.
Monday – Broad bean and fresh pea omelette with salad
Tuesday – Beetroot and goat's cheese pasta
Wednesday – Onion, chorizo and potato hash
Thursday – Spicy carrot fritters
Friday – Mushroom and bacon carbonara
Saturday – Minestrone with crusty bread
Sunday – Minute steaks, chimichurri and griddled sweetcorn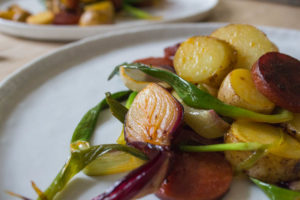 The clear out method
A favourite of mine, this method is where you decide you are going to have a kitchen clear out. It might be that you want to start using up more spices like I did, or that you have a load of stuff in the freezer/cupboards you want to start getting through. It can be a great way to use things in a new way, especially leftovers.
Monday – Leftover chilli con carne 'lasagne'
Tuesday – Big Greek salad with herby dressing
Wednesday – Fish pie with peas and spinach
Thursday – Cajun chicken skewers, red rice and sweetcorn
Friday – Leftover Bolognese with gnocchi
Saturday – Potato wedges, paprika and chilli roasted veg and halloumi
Sunday – Spelt pasta and puttanesca
The recipe book method
The recipe book method is a great way to expand your recipe arsenal. You can start by adding in a recipe you've never cooked before once a week or once a fortnight and just watch how quickly you start cooking and enjoying new things. If you're adding in new recipes it's a good idea to choose something that doesn't require too many additional ingredients and a 30 minute cookbook is a great idea for busy weekday evenings. Below are some recipes that I originally got from cookery books which have now become part of those I store in my brain.
Monday – One pot spicy pork and rice from The Hairy Dieters Eat For Life
Tuesday – Jerk chicken with rice, quinoa or lentil salad. The marinade is from Jamie's 30 Minute Meals
Wednesday – Lentil Bolognese from Nigel Slater's Eat
Thursday – Mushroom risotto, also from Jamie's 30 Minute Meals. I apply the method of cooking the risotto to any flavour.
Friday – Aubergine Parmigiana from BBC Good Food
Saturday – Loc lac from Rick Stein's Far Eastern Odyssey. I use the marinade on all sorts of things.
Sunday – Macaroni cheese from The Dairy Book of Home Cookery. I use the cheese sauce recipe from here elsewhere too.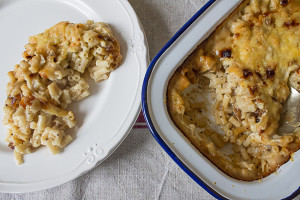 The diet method
You can use this method in different ways. It could be that you want to cut down on calories but you are feeding other people, so you need meals which are easy to divide and add extra veg/salad for yourself without everyone else going hungry! It could be that you want to start introducing more vegetarian food into your kitchen or you want to eat less of something. Below is a full vegetarian (with some vegan recipes too) weekly meal plan I have used before.
Monday – Dahl, saag aloo and rice
Tuesday – Leftover dahl with quick flatbreads
Wednesday – Tomato, olive and artichoke pasta bake
Thursday – Vegetable box risotto
Friday – Leek and cannellini beans with wholewheat spaghetti
Saturday – Frittata with roasted tomatoes
Sunday – Lentil and black bean chilli with baked potatoes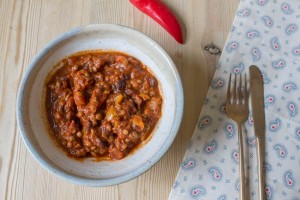 The budget method
This is a great way to cut down on food spending. If you stick to your meal plan you'll only buy what you need and cut down on waste that way and if you're trying to be more budget conscious this can be a great way to save the pennies. You might like to take advantage of some offers in the shops and do some batch cooking if the recipe is easily scalable or you can try out some of your favourite recipes using cheaper ingredients.
Monday – Cottage pie using half mince, half lentils
Tuesday – Chunky veg and chickpea tagine with rice
Wednesday – Lemon and herb roasted chicken thighs with iceberg wedges and sautéed potatoes
Thursday – Creamy tomato and spinach pasta bake
Friday – Cowboy beans and homemade nachos
Saturday – Easy white bean stew with broccoli and crusty bread
Sunday – Homemade pizzas. Make eight bases and eight lots of pizza sauce at the same time for freezing.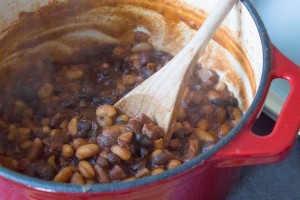 What you've got here are six weeks of meal plans ready to go. If you're veggie or vegan most of these recipes can be changed to use an alternative ingredient to make them suitable. I have linked to some of the recipes that are already on my blog, or those that are similar. If you want to keep up to date with my weekly meal plans 'live' then I post them every Monday on Instagram, Facebook and Twitter. I'd love to know if you start meal planning and which method would work for you so do let me know!