I love cranberries and really try to make the most of them when they are around; they are almost fool proof when it comes to making jams and jellies as they are so full of pectin. This Cranberry and Clementine Crumble is a great way to use cranberries in a different way over the festive period and the addition of Cointreau adds a little something extra. I was asked to come up with a couple of wintry recipes as part of a project with Kenwood. I used one of the new Kenwood Chef Sense machines to test the recipe out at home and then I spent a day filming the recipes! I hope you enjoy it!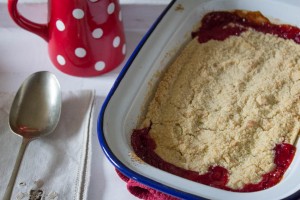 Ingredients
You will need (to serve 4):
250g cranberries
1 large orange, juice only
Splash Cointreau
100g sugar (caster or granulated)
100ml water
75g butter, cubed
175g plain flour
50g caster sugar
Method
Put the cranberries, orange juice, Cointreau, sugar and water in a pan on a medium heat and leave to warm up until just simmering. Keep on a low to medium heat and wait until all the cranberries have burst. You want the mixture to have thickened but so you still have plenty of juice.
Add the butter, flour and sugar to a mixer and turn on to a low speed. Leave for a minute or so until you have a breadcrumb texture, you can turn it off sooner if you prefer to have some chunkier bits of crumble.
Put the fruit into a dish then top with the crumble. Place in a preheated oven at 180C for 30-40 minutes or until nicely browned.
I really enjoyed cooking this recipe as it smells so good when it's all mixed together in the pan and when it's cooking in the oven. Making the crumble in the mixer saves time as well as keeping my fingernails clean; imagine if I'd just painted them particularly festively and then got crumble all over them, it doesn't bear thinking about. The combination of tart fruit, faint alcohol and orange is really good with the crunchy, sweet crumble top and when it leaks out over the top it's such a nice colour. Serve with double cream, clotted cream or brandy butter.
Thank you to Kenwood for my Chef Sense Mixer and for the days filming. All opinions and words are my own. 
Thank you for supporting the brands that support me.