Chard has such a fantastic earthy flavour and I love using it in all sorts of dishes. I used Swiss chard for this recipe but the rainbow variety would work just as well and look fantastic. My Sticky Soy Chard came about because I wanted to treat the chard exactly as I would treat bok choi; covering it in a savoury, sticky glaze. The chard plant itself does have a habit of getting a bit of mud stuck in the leaves so make sure you give it a good wash before you use it.
Ingredients
You will need (for two as a side):
1 head chard
2 tbsp sesame seeds
2 tbsp soy sauce
1 tbsp runny honey (use maple syrup to make it vegan)
Juice ½ a lime
1 garlic clove, crushed
½ tsp five spice
Black pepper
Rapeseed oil, for frying
Method
Snap the chard leaves off the stalk so you have individual leaves. Cut off any larger end pieces from the leaves and give everything a good rinse; if the leaves retain a little water that's not a bad thing.
Get a wok or large frying pan on a medium heat. Add the sesame seeds and dry fry for a few minutes until toasted. Remove from the pan and keep to one side.
Add a little oil to the pan then add all the chard. Leave to soften for five minutes or so, stirring regularly. The water left on the leaves will help to steam it.
Whisk together the soy sauce, honey, lime juice, garlic, five spice and a little black pepper. Tip this into the pan and cook for a few minutes more until the sauce has turned into a sticky glaze.
Sprinkle over the sesame seeds before serving.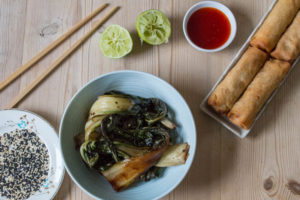 We had this for a light lunch and it would be fantastic served with just simple steamed rice. Maybe with a few vegetable spring rolls, crispy tofu or chicken skewers on the side. The glaze has a bit of everything: salt, sweet, sour and a little warmth from the five spice and pepper. When cooked this way the chard stalks retain a little crunch and the leaves wilt to a delicious softness. You could try this glaze with other greens too; cabbage, kale or even brussels sprouts would work really well.