I think pears are annoying. Lovely, but annoying. They sit around in the fruit bowl looking all delicious and they're never ripe. Then, when one is ready to eat the rest immediately go ripe too and then you have to eat them all at once. Well I'm not standing for it any longer, I decided that I would use the pears while they are under ripe so I can enjoy them while waiting for the others to ripen. The word ripe has lost all meaning. These mini toffee pear pies are made from surprisingly few ingredients (if you buy readymade pastry) and are just perfect for celebrating the pear in all its I'm-never-quite-ready-ok-now-I'm-too-ready glory.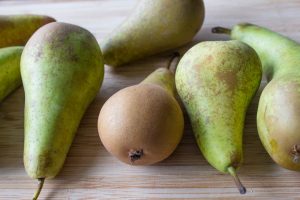 Ingredients
You will need (for 12 mini pies):
6-7 medium pears, just under ripe is ideal (alternatively you could use some sharp apples)
75g salted butter
2 tbsp dark muscovado sugar
Zest 1 lemon
1 sheet readymade and rolled shortcrust pastry
Milk for brushing
Caster sugar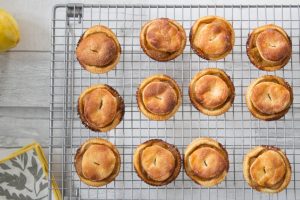 Method
Start by making the pie filling. Chop the pears up into small chunks and get a frying pan on a low/medium heat.
Add the butter and the sugar to the frying pan and leave to soften and mix together. Once you have a lovely, dark brown, smooth sauce tip the pears in and continue to cook for a few minutes so that the pears get well covered and the sauce thickens. Add the lemon zest. Put to one side to cool.
Roll the pastry out on a floured surface to make it around half as big again. You will need two fluted pastry cutters: one 8.5cm and one 6cm.
Lightly grease a 12 hole cupcake tin.
Cut out 12 circles of pastry with the larger cutter and put these into the holes in the cupcake tin. Re-roll the pastry and cut out 12 circles with the 6cm cutter.
Preheat an oven to 180C.
Spoon the cooled pear mixture into each pastry case, top up each mini pie with any leftover caramel sauce.
Brush the edge of the pastry cases lightly with milk and then put the smaller pastry circles on top. Seal with your fingers or a fork. Brush the tops of the pies with a little more milk, add a small steam hole in the top of each pie with a sharp knife, then sprinkle with a little caster sugar.
Bake in the oven for 20-25 minutes or until the tops are golden brown.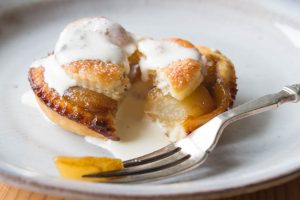 I served a few of them warm, straight from the oven with a drizzle of double cream. What a little piece of loveliness that was. The fruit inside is soft and slightly sharp, the toffee sauce has bubbled up onto the pastry and made a sticky, sweet edge and the pastry is warm and crisp. Adding the lemon prevents the pie from being overly sweet. These would be perfect to take on a picnic or to nibble on for bonfire night. Alternatively, and this is quite a niche suggestion, if you have a log burner, pop a couple of pies on a piece of foil on top of the burner and wait for them to get warmed through before serving with ice cream.