I imagine that as you read sage and black pudding pasta you'll fall into one of two camps of people; either the 'a full English isn't the same without it' camp or the 'I don't like it' camp. If you know what goes into making a black pudding I can understand that it doesn't really help to sell itself: pork blood, pork fat, oatmeal and spices. The spices vary between producers so try out a local one if you can get your hands on it, it's definitely worth it. Black pudding is such a polarising ingredient but it's actually pretty cheap meaning it's perfect for cooking on a budget.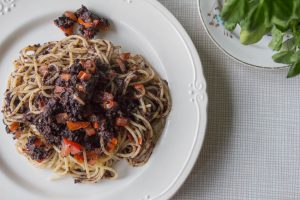 Ingredients
For two:
2 slices black pudding (the best you can get your hands on) £1.50
1 large ripe tomato, deseeded and finely diced £0.15
3 large fresh sage leaves, finely sliced £0.00 (free from the garden)
300g pasta £0.50
25g butter £0.15
1 tbsp extra virgin olive oil £0.10
Salt and pepper £0.02
Total £2.42
Method
Bring a large pan of water to the boil. Get a frying pan on a low heat and add the butter and sage. Let the sage infuse into the butter as it melts.
When the water has boiled add the pasta and cook according to packet instructions.
Turn the heat up to medium on the frying pan and add the black pudding. Fry on both sides and then break it up as you go. Add the olive oil, tomatoes and a little salt and pepper.
Drain the pasta then mix the black pudding and tomatoes into the pasta. Serve.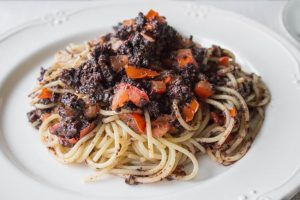 The black pudding is so rich, deep and with a gentle spice; the sage brings a lovely, homely herb note and the tomato a welcome freshness. Combined with some simple pasta it is a cheap, easy and delicious meal to make. You could of course use sausages if you don't fancy black pudding. Morcilla and boudin noir are Spanish and French alternatives but if you haven't tried it for a little while I really think our black pudding deserves another go.