Can you eat organic while also making sure you don't break the bank? I think you can. And not only that I think you can make some really delicious and different meals too. The answer to eating organic on a budget is about sourcing the ingredients cost effectively and a good meal plan. I wanted to put it to the test and see what I could make with one week's worth of organic meat and veg. One way to make things easier is to use a veg box company; the time you save needing to go to the shops can be spent planning what you're going to cook up.
(The Abel & Cole boxes were gifted).
Abel & Cole kindly sent me the ingredients for this post and below is what I got for the week. I had one Keen Cooks Box (£14.25) and one Marvellous Meat Box (£14) so all I needed to do was work out how to use these ingredients to feed two of us for a whole week. The veg box came with a sprig or two of mint which was very handy for my tabbouleh! The meat was actually not organic, but it was high welfare which is what I would normally buy if I couldn't get my hands on organic.
Chicken Legs (2)
Lamb Steaks (4)
Gammon Steak
Purple Spouting Broccoli
Fennel
Courgettes
Chestnut Mushrooms
Baby Plum Tomatoes
Sweet Mix Salad
Mango
Bananas
Pears
The meals we had are listed below, we had these in the evenings. For breakfast we had porridge or homemade granola and lunch was either sandwiches or salad with fruit. I had to buy a few extra ingredients on top of the two boxes (bread, milk, a few bits of extra fruit, potatoes, cheese and the like) and the rest of the ingredients were already in my fridge and cupboards. I spent around £17 on a top up shop which meant the total cost for two people for the week was £45 (roughly).
Chicken Minestrone
Harissa Lamb and Tabbouleh
Lamb and Lentil Salad
Broccoli Macaroni Cheese
Gammon Hash and Salad
Mozzarella Mushrooms and Spinach Mash
Fennel Risotto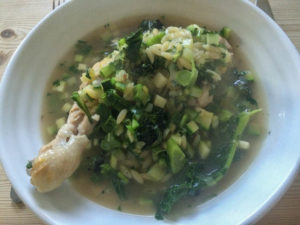 Chicken legs are not something that I would usually buy so it was great to have a different cut in the house. I'd had some orzo hanging around for a little while so a lovely green minestrone seemed like a great idea. I browned then removed the chicken, added leeks and fried gently. Popped chicken back in with some stock and simmered then added the orzo, a few minutes later I added some chopped courgette and broccoli. I added some parsley right at the end.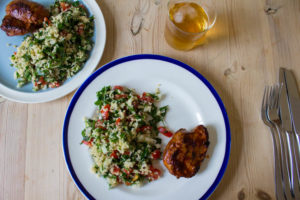 As I had four lamb steaks I wanted to stretch them for two meals rather than one. First up was Harissa Lamb and Tabbouleh which was a great way to use various bits from the veg box and fridge along with some leftover harissa paste.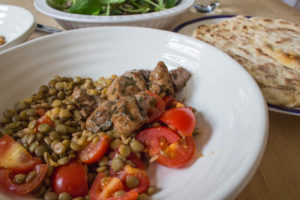 The other lamb dish I made was my Lamb, Lentils and Flatbreads. I used lentils to bulk this dish out as I used the two smaller lamb steaks. Delicious with the ripe tomatoes and fresh salad.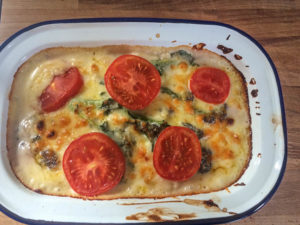 On a rainy day we made a Broccoli Macaroni Cheese using up the rest of the broccoli and one tomato I had saved just to put on the top!
The other half of the salad needed to be used up so was perfect alongside some Gammon Hash. Really easy to make this used the gammon, an onion, some potatoes and sweetcorn.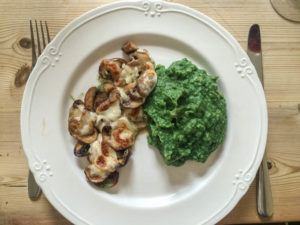 My Mozzarella Mushrooms were a great success. Baked in the oven with plenty of garlic then covered with mozzarella for the last few minutes, served up alongside some mashed potatoes which were mixed with blended spinach.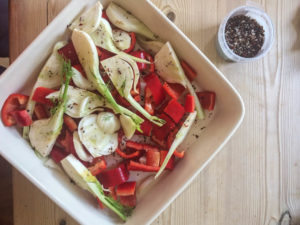 Lastly we had Fennel Risotto. Made with a normal plain risotto base I baked the fennel slowly until it was soft and gently caramelised, I threw some peppers in there for good measure too, then simply topped the risotto with the veg and a good handful of parmsesan.
If we assume that your fridge contents aren't exactly the same as mine so you might need to pick up a few extra bits (the harissa paste, a tin of sweetcorn and some mozzarella for example) I think you could easily feed two people, organic, for around £50 a week. And that includes breakfast and lunch. And you don't (necessarily) need to go to a big shop to pick up the extra bits and bobs; you could use a little local one. Meal planning is key to sticking to a budget; I have a previous post with some tips for doing your own meal planning if it's something you're new to.
When you're working through your meal plan and your getting to the end, sometimes you can be faced with some strange combinations, but that's the beauty of saving time at the shops. You can have a think, a ponder and a look through some books to choose exactly what you want to do with some mushrooms and a few potatoes or decide how you can make a fennel bulb the star of your meal. Veg boxes do make you think outside the box (pun intended) to try a new recipe or two which can only be a good thing.
Thank you to Abel & Cole for the boxes. I wanted to have a go at eating organic on a budget and all opinions expressed and words are my own.