Say the word halloumi around other people and pretty much all of them will say, "I love halloumi" and then lick their lips. Well, I count myself as one of those people and I've got news for you. Rosemary and garlic butter halloumi takes your squeaky cheese to a whole other glorious level. Let's be frank, shove some garlic butter on anything and it's instantly better. Note – 'anything' does not include bruises or grazes, missing wall or floor grout or use as shampoo and face cream; shoving garlic butter in any of those places will be of no help to you whatsoever. Delicious, full fat, dripping in butter, full of flavour is what we're looking for here, those of a healthy disposition look away now.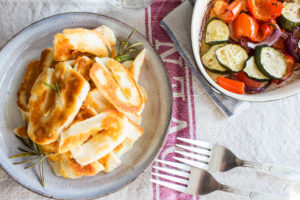 Ingredients
You will need for two (yes, I am that greedy):
A big knob of salted butter
2 large garlic cloves
1 halloumi block, sliced
2 sprigs fresh rosemary
Method
Put the butter into a small bowl and crush the garlic in. Beat the garlic into the butter so it's evenly distributed; I find this helps the garlic flavour to be more consistent.
Heat a large non-stick frying pan or griddle on a medium heat and add the halloumi and rosemary. Dry fry until lightly golden on one side then flip the halloumi over.
Once the halloumi is lightly golden on the other side add the garlic butter and mix everything together so all the cheese gets well coated. Don't worry if the cheese breaks up a bit at this stage.
Serve with salad, or as I did, with some rosemary roasted vegetables.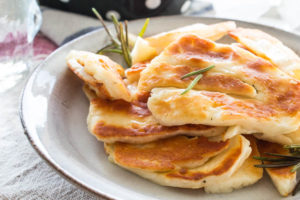 Adding the rosemary to the halloumi while it fries means the rosemary flavour infuses really well but stays quite subtle. The salty halloumi and salted butter make for quite a sodium heavy meal so you won't need to add any salt to whatever you serve it with. The roasted veg mix I served it with (courgette, onion and pepper) was a really lovely sweet flavour to have alongside the garlicky buttery halloumi. If you thought halloumi couldn't get any better, just wait until you try this.