First impressions are terribly important, but then so is not judging a book by its cover. This may look, on first glance, like a bowl of indistinct yellow mush but trust me, don't judge this bowl of incredible-ness by its 'rustic' appearance. When I have a bowl of dahl it has to be three things: comforting, frugal and full of garlic. My Yellow Split Pea Dahl, which I have been trying and testing for some time now, fulfils all of my dahl needs and wants. Absolutely dahl-icious.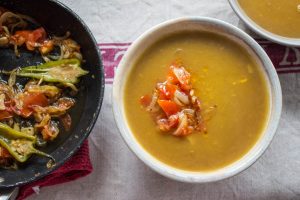 Having a pot of lentils bubbling and blipping away on the hob is one of the most comforting sounds. I love the mealy smell that comes from cooking up lentils and coupled with the amazing smell of frying, gently caramelising onions I can't think of many meals that equal the anticipation.
Vegetarian (vegan if you leave the butter out), thick, full of garlic and lightly spiced this is the soup for autumn. It thickens up as it cools so don't be perturbed if you get it out of the fridge the following day and think you should be slicing it. I eat it simply on its own but if you fancy cooking up some chapati or paratha and having a dunk, all the better.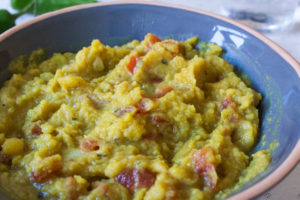 Yellow Split Pea Dahl
Deliciously frugal yellow split pea soup; filling and full of flavour.
Ingredients
300

g

dried yellow split peas

1.2

litres

water

Large

pinch

salt

1

tbsp

rapeseed oil

1

tbsp

butter*

1

large

onion

finely sliced

1

large pinch

dried fenugreek leaves

Small

thumbsize piece

ginger

finely grated

1

tsp

garam masala

1

green chilli

halved

6

large

garlic cloves

peeled and sliced

1/2

tsp

turmeric

2

large

tomatoes

seeds removed and roughly diced

Small

pinch

black pepper
Instructions
Rinse the lentils in a sieve until the water runs clear.

Tip the lentils into a large saucepan and add the water, garam masala, turmeric and salt. Bring everything to the boil then reduce to a simmer and cook for 60-75 minutes, loosely covered. Skim off any foam that rises in the first few minutes of cooking.

After the yellow split peas have been cooking for 30 minutes, start to make the onion mix.

Heat the oil and butter in a frying pan then add the onion and fenugreek leaves. Fry gently for at least 30 minutes until softened and starting to turn pale golden. Stir often.

Add the garlic to the onions and cook for another 8-10 minutes until everything is golden brown.

Add the ginger and chilli and cook for another five minutes. Finally, add the tomato and fry for five minutes, ensure everything is mixed together well.

When the lentils are cooked and thickened, stir through the onion and tomato mixture with plenty of black pepper. Taste and add a little more salt if needed.
Notes
*replace the butter with rapeseed oil to make the recipe vegan
Pin my Yellow Split Pea Dahl to cook later!