I think this is a perfect meal in many ways: firstly, it's just the right size for two people; secondly, it's really simple to make; thirdly, it's deliciously vegetarian and full of veg and lastly, it's really versatile. My tomato and mascarpone gnocchi bake is made from a few ingredients which I often have in the kitchen anyway. Just the thing for a busy Monday night when you want something quick and tasty. You could add anything to it that you had hanging around in your cupboards, maybe some olives, sundried tomatoes, leftover chicken or roasted veg or you could pop some cheese on top.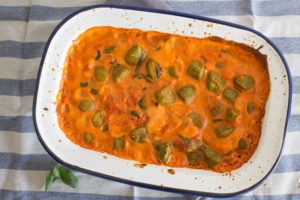 Ingredients
You will need (for two*):
1 small onion, finely diced £0.10
1 small carrot, finely diced £0.08
Olive oil for frying £0.10
1 large garlic clove, crushed £0.05
1 tin chopped tomatoes £0.75
1 tbsp sundried tomato paste £0.15
Small handful basil, big leaves roughly chopped £0.30
125g mascarpone cheese £0.75
350g spinach gnocchi £2.29
Salt and pepper £0.02
Total £4.59
* This could easily stretch to feed four if you added a few additional ingredients, used extra gnocchi or served it with a big salad.
Method
The key to this dish is to get the onion and carrot lovely and soft and beautifully caramelised. Start by getting a saucepan on a low heat and add just enough oil to cover the bottom of the pan. Add the carrot and onion and leave to cook gently for at least 15 minutes.
Add the crushed garlic and continue to cook for another five minutes.
Increase the heat to medium and add the tomatoes and sundried tomato paste. Season with salt and pepper and leave to simmer for 10-15 minutes or until reduced and slightly thickened. Remove from the heat.
Cook the gnocchi according to pack instructions, drain and leave to one side. Preheat the oven to 180C.
Stir the mascarpone through the tomato sauce then add the gnocchi and basil to the sauce and mix everything together well.
Tip into an ovenproof dish and bake for 10-15 minutes until bubbling and slightly golden in patches on top.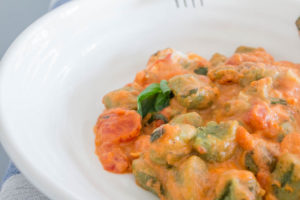 I managed to find some lovely spinach gnocchi to use for this but you could use any gnocchi, or indeed any pasta for this. Also, if you don't have any mascarpone I have used cream in the past and it works really well. This is my kind of cooking; because you don't have to tend to it, keep stirring it or fuss over it you can get on with all the other things that need to be done when you get in from work. Not only that but it is scrumptious. The onions and carrot give a natural sweetness, the tomatoes are slightly sharp, the mascarpone creamy and the basil rounds it all off nicely. I do like the texture the gnocchi bring to this but whatever pasta you have would be great too. I know there are lots of people who say you shouldn't cook with leafy herbs like basil but I actually think it imparts a lovely flavour into the dish; it's not as vibrant as fresh basil but I like it.