Who doesn't love fish and chips? That classic British seaside dish, everyone has their favourite sauce or side to go with it; curry sauce, mushy peas, simple salt and vinegar or a good spoonful of tartare sauce. I'm a mushy peas and tartare sauce person I have to admit. When I started thinking about this recipe I wanted to make sure I kept the elements I love about those two sides but add in some influences from somewhere else. For my Moroccan Style Fish and Chips I'm using Young's Chip Shop Cod Fillets, did you know they are the Nation's favourite? This recipe is perfect for adding a bit of spice to a classic dish and it's so easy to cook.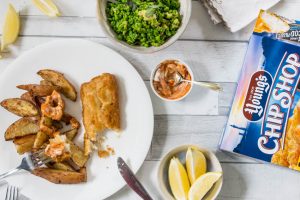 Ingredients
You will need (for two people):
1 pack of Young's Chip Shop Cod Fillets (these are made from sustainably sourced 100% white flaky cod fillets)
For the chips
800g potatoes, scrubbed and cut into wedges
4 tbsp rapeseed oil
1 ½ tbsp ras-el-hanout
Salt and pepper
For the mushy peas
400g frozen peas
1 tbsp butter
Small handful fresh coriander, roughly chopped
Small handful fresh mint, roughly chopped
1 small preserved lemon, finely chopped
For the harissa mayo
3 tbsp good quality mayonnaise
1 tbsp harissa paste
Method
Put the potatoes into a pan and cover with cold water. Add a pinch of salt and bring to the boil. Boil for 5 minutes and then drain well.
Preheat an oven to 200C.
Drizzle the oil over the potatoes then add the ras-el-hanout and some salt and pepper and mix everything together well. Tip onto a baking tray and roast for 35-40 minutes until golden brown.
Add the Young's Chip Shop fillets to the oven 15 minutes after the chips. Place the fillets on a wire rack over a deep baking tray and then pop in the oven for 22 minutes.
While the wedges are cooking make the mushy peas. Bring a pan of salted water to the boil and tip the peas in. Bring the pan back to the boil and cook the peas for 2-3 minutes then drain.
Mash the peas with the coriander, mint, butter, preserved lemons and a little black pepper. Keep mashing if you want it really smooth, or leave it a little chunky.
Simply stir the harissa paste through the mayonnaise and serve.
I really liked the method for cooking the cod; it means that it goes crispy on both sides so you get a proper crunch from Young's unique, crisp, bubbly batter. The cod inside flakes apart really nicely and I was pleasantly surprised to find out that Young's Chip Shop Cod Fillets are only 243 calories per fillet. If you'd like to recreate the authentic taste of the chippy at home, take a look at the video above, Young's have partnered with Ruth Langsford to create some recipes to try at home. The flavours in my Moroccan Style Fish and Chips are really vibrant and the different textures from all the elements of the dish bring everything together perfectly.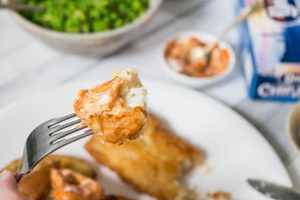 The preserved lemons in the mushy peas have a very similar salty piquancy to capers so the mushy peas take pride of place where tartare sauce normally would; adding the mint and coriander too brings a fantastic freshness. The ras-el-hanout gives the wedges a wonderful warmth and when they're cooking in the oven the smell is amazing. Mixing up the harissa mayonnaise is so simple and so full of flavour, just add a bit less harissa if you don't want it as hot. Load up your fork with crispy coated cod, sweet and savoury mushy peas and a good dollop of spicy harissa mayo, it is such a delicious combination.
This is a featured post and I was reimbursed by Young's for my time and ingredients. All opinions and words are (as always) my own. Thank you for supporting the brands that support me.