As you might already know I am a big fan of simple, straightforward cooking. I suffer from hangryness you see and when I get home on a busy weekday evening I want something full of flavour that can be rustled up in no time at all. So welcome my Sticky Chicken Skewers into your kitchen. They take just minutes to prepare and the whole meal (including potatoes and tomato salad) is on the table in well under 30 minutes. Just because it's quick cooking doesn't mean anything should be skimped on, it should still be full of quality ingredients and downright delicious. Word of warning though, you might walk round work all day with a very smug look on your face knowing you've got a great dinner to go home to when you get these on to marinate, do try and hide it.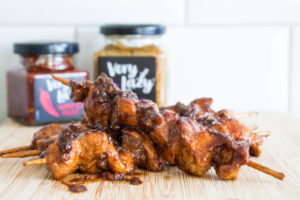 Ingredients
You will need (for two):
2 chicken breasts, diced (you could use scored drumsticks, thighs or wings but they'll take longer to cook)
Juice 1 lime
3 tbsp maple syrup
25ml bourbon (don't worry if you don't have any, just leave it out)
1 tbsp soy sauce
1 ½ tsp Very Lazy Red Chillies
2 tsp Very Lazy Smoked Chopped Garlic
1 tbsp rapeseed oil
Salt and pepper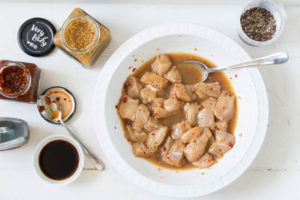 Method
Mix together all the ingredients apart from the chicken to make the marinade. The joy of this marinade is that there is no chopping involved, just a spoon of this and a splash of that and it takes no time at all to prepare.
Add the chicken to the marinade and stir it all together to ensure the chicken is fully coated. Cover and put in the fridge for at least two hours, ideally overnight. I prepared mine the morning before I went to work.
Put the diced chicken onto skewers reserving any leftover marinade. Top tip – soak the skewers in water for a few hours before using them to prevent them burning when cooked.
Heat a pan on medium-high and add a little oil. Pop the chicken skewers in and fry, rotating the skewers until the chicken is cooked basting with the leftover marinade. Keep cooking until the marinade has all been added and has reduced down leaving everything lovely and sticky.
Serve with simple boiled new potatoes and a dressed tomato salad; both of which you can get ready before you fry the chicken.
I have to admit that I loved this sticky marinade so much that I have also tried it with aubergine slices (I mixed up the marinade and brushed it on when the aubergine was almost cooked) and tofu (ideally an overnight marination) both fried and barbecued and both were excellent. The marinade itself is actually vegan so you could use it on anything you liked.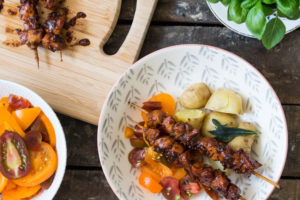 It's the sticky texture of the marinade that really makes it, the flavours get so intensified with all the marinating and reducing. I took time to make this taste just how I wanted it to and I think it has a bit of everything; the soy and maple combination bring savoury and sweet, the lime brings freshness and the bourbon a faint oakiness. The amount of Very Lazy Red Chillies I used gives the finished skewers a mild to medium heat so you can add more or less depending on how hot you like it; the smoked garlic gives a wonderful subtle smokiness to the whole marinade. Now, when can I put them onto the meal plan again?
This is a sponsored post and I was reimbursed by Very Lazy for my time and ingredients. All opinions and words are (as always) my own. Thank you for supporting the brands that support me.